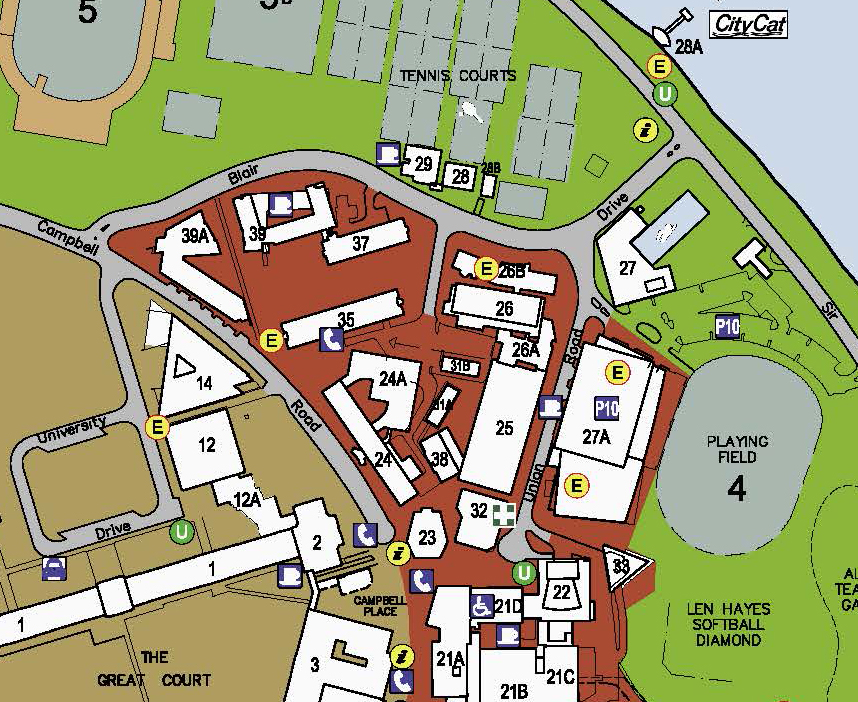 The School of Communication and Arts offers Honours degrees in the following fields:
Bachelor of Arts (Honours)
Bachelor of Communication (Honours)
Bachelor of Journalism (Honours)

Art History
Communication & Cultural Studies*
Drama
English Literature
Journalism and Mass Communication
Writing

 

 

 

 

 

 

* Film and Television, and Media Studies students all complete the Communication and Cultural Studies coursework. The Communication and Cultural Studies seminars offered at Honours level are designed to take the disciplinary mix of Film and Television Studies, Media, and Communication and Cultural Studies into account. Your dissertation can focus on Film, Television, Media Studies, Communication or Cultural Studies.
Honours offers you the opportunity to pursue in-depth studies in your discipline. Honours prepares you to undertake a Master of Philosophy degree or a doctorate, but many students enrol to follow up an area of research that has come to fascinate them, and to cap off a three-year degree before entering the world beyond the university.
To ease the transition from undergraduate to honours we have put in place a support network that makes it as easy as possible for you to become part of our research community. The network is made up of your honours colleagues (buddies) and postgraduate students enrolled in research higher degrees (mentors) and, of course, thesis advisors and other members of staff. If you have a question, there's always someone to ask, and there's always someone to chat through ideas with over a coffee.
Skills gained from the honours program include:
advanced research methods
incisive reading skills
improved communication skills
improved interpersonal skills
independent learning
learning how to plan, research and produce a substantial project in the form of the dissertation
experience in critical analysis.
You develop these skills by:
studying in a seminar environment and at a much more in-depth level than is possible at undergraduate level
working through research ideas with others in seminars and outside class
writing a Dissertation (a long essay on a topic of your choice), with the help of an advisor
Combined Honours with other Departments or Schools may be possible.
The period of Honours enrolment is one year full-time and two years part-time. Enquiries should be directed to the program director, Dr Judith Seaboyer, j.seaboyer@uq.edu.au.
---
Honours Application Procedure
Entry Requirements
Completion of either a BA or BCA with a relevant major (#16) in English Literature, Communication & Cultural Studies (including Media, Film and TV), Drama, Art History, Journalism and Mass Communication, Writing OR completion of a BJ or BComm with a relevant major (#16) in Journalism or Communication.
GPA of at least 5.5 in the relevant major (except for Journalism, Journalism and Mass Communication and Communication where a GPA of 5.0 is required).
Where a number of years have passed since your completion of the pass degree, the Executive Dean or the Head of School may require that before you enrol you demonstrate continuing competence in the field in which Honours is to be taken, including, if appropriate, the completion of further undergraduate courses.
Students wishing to enrol in Honours in Art History who are taking undergraduate degrees in other institutions are strongly advised to complete three advanced undergraduate ARTT courses through cross-institutional enrolment.
How to Apply for Honours
 For students in the School:
Check that you have the met the Honours Entry Requirements
Read the BA (Hons), BComm (Hons) or BJ (Hons) Program Outline and check the Program List.
Apply within the School by completing the Application for Postgraduate Coursework (Sections 1, 2, 3, 4 and 7 only -- you do not need to complete Sections 5 and 6) & the Study Plan (obtain your Supervisor's signature).  Return the completed forms to the School of Communication and Arts office, Level 6, Michie Building.

Students applying for Honours in Writing must also attach a sample of your creative work (approximately 10 pages), preferably in the genre of your intended project; and a sample of your academic or essay writing (up to 10 pages).
For University of Queensland students from other Schools and Faculties or other Universities:
You are welcome to apply for enrolment in the the School's Honours Program.  Please contact the Director of Honours Studies (Dr Jude Seaboyer, j.seaboyer@uq.edu.au)  for an interview.
Finding a Dissertation Supervisor
You will work on your dissertation with a staff member who is knowledgeable in the area of research you've chosen. Students often have a staff member that they have previously worked with that they would like for their supervisor. We recommend you find a supervisor towards the end of the year preceding your honours enrolment for two reasons:
First, most staff members are unable to take on more than two honours students at a time, and
Second, your honours year will be much more pleasant and satisfying if you have been able to spend some time over the summer reading around your topic.
Your supervisor will be able to help you choose a topic and a suitable reading list so that by the time you arrive at the first seminar meeting in late February you will be able to discuss your "topic on probation" with your fellow students. This is not to say you shouldn't take a holiday! Your reading might consist of getting to know your primary texts well, and beginning to read pertinent criticism and theory towards your bibliography.
If you are looking for a research pathway but don't yet know the full range of research specialties and areas undertaken by School staff, check under Research where the School research groups, research projects and journal publications are described. It can be exciting to be working within an on-going research topic in which the School maintains clear excellence. Academic Staff can be found individual staff research profiles and recent publications which will provide a more detailed view of the diverse interests of possible Advisors.
If you are having difficulty framing an appropriate topic or locating a supervisor, you are strongly urged to see the Director of Honours Studies as soon as possible.
---
Honours Courses
As well as writing an Honours thesis of 12,000-15,000 words, all students must enrol in additional courses specific to their discipline area:
DISCIPLINE AREA

Art History - BA(Hons)
Communication and Cultural Studies - BA(Hons)
Drama - BA(Hons)
English Literature - BA(Hons)
Writing - BA(Hons)

DISCIPLINE AREA

Communication - BComm(Hons)
Journalism - BJ(Hons)
Journalism and Mass Communication - BA(Hons)

THESIS (#8)

ARTT6103/ARTT6104
COMU6005/COMU6006
DRAM6100/DRAM6101
ENGL6100/ENGL6101
WRIT6006 (no mid-semester intake)

THESIS (#8)

ENGL6085 (#4) – Research Methods & Project Management

Compulsory for all Honours students in this stream. The ENGL6085 Research Methods and Project Management course is about the process of undertaking and completing a research project. It covers information management and documentation, presentation skills, and database (and other resource) searches. As well as teaching research skills, the course includes a disciplinary strand in each of the following areas: art history, communication and cultural studies, drama, and english literature.

 

COMU6008 (#4) – Topics in Journalism and Communication Studies

Compulsory for all Honours students in this stream.

This course offers a critical understanding of theories which both inform, and are reflective of, journalism and communication practice. The course provides the theoretical foundations for the honours thesis through supervised reading, seminar presentation and participation. Students will explore a range of research communication strategies including oral, written and multi-media presentations.

 

HONOURS SEMINAR (#4) 

Compulsory for all Honours students in this stream to complete an Honours Seminar course.

Art History – ARTT6050
Communication and Cultural Studies – COMU6050
Drama – DRAM6050
English Literature – ENGL6050
Writing – WRIT6005

JOUR6002 (#2) – Research Design in Journalism and Communication

Compulsory for all Honours students in this stream.

The course is about the process of undertaking and completing research including developing research ideas and projects in journalism and communication research traditions. Through guidance from supervisors and independent study, the course allows students to examine the goals of research, how to conceptualise and formulate researchable ideas, develop a research proposal, conduct a study and report the outcomes of their research. As part of this course students will devise a focused reading program relevant to their research project, lead discussions in designing a journalism and communication research project and develop specialised knowledge and skills that might be applied to proposed or on-going research.

 

ADDITIONAL #2 UNITS - for any Level 6 or 7 course as approved by the Program Director.
---
Support for Honours Students
Financial Support
The most likely source of support for Australian citizens or permanent residents of Australia is AUStudy or a student loan. However, some scholarships and prizes are available.
Library Privileges
A Fourth-Year student may borrow up to 40 items at a time, for four weeks. Upon request, the 40 items may include 5 which students may borrow for one semester.  Inter-library loan facilities are available.
Research Seminars and Events
Honours students are strongly encouraged to attend research seminars and events throughout the year, as part of their ongoing academic education. Details can be found here.
Student Services
Honours students have full access to the Learning Workshops available throughout the year, as well as Personal Counsellors, Disability Advisors, Learning Advisors and International Advisors available for one-on-one bookings.  More information can be found here.
Access to Honours Theses
At the Academic Board meeting of 19 May, 1997, the following guidelines were formulated regarding honours theses housed in Schools.

Honours theses should be retained by Schools for a period of at least three years as a record of scholarly activity.
Theses will normally be accessible, except where exceptional circumstances (e.g. intellectual property considerations, restrictions relating to the gathering of confidential data, particularly controversial author or course matter) apply.
Where exceptional circumstances apply, the Head should consult the author.  In such exceptional cases the Head should not release the thesis without the author's consent.
Students should be informed that their theses are subject to FOI legislation and that the University will in all but exceptional cases make theses available without recourse to the provisions of the Act.
If a request for access is made under FOI legislation the normal FOI procedures will be followed.

Borrowing Honours Theses
enrolled Honours students are eligible to borrow theses from the School (please email communication-arts@uq.edu.au) .  If possible, obtain recommendations from your supervisor of exemplar theses. In the course ENGL6085 Research Methods and Project Management use is made of recent 1st Class theses.
---
Graduate Attributes
In-Depth Knowledge of the Field of Study

A comprehensive and well-founded knowledge of the field of study
An understanding of how other disciplines relate to the field of study
An international perspective on the field of study.

Effective Communication

The ability to collect, analyse, and organise information and ideas, and to convey those ideas clearly and fluently, in speech and writing
The ability to interact effectively with others in order to work towards a common outcome
The ability to select and use the appropriate level, style and means of communication
The ability to engage effectively and appropriately with information and communication technologies.

Independence and Creativity

The ability to work and learn independently
The ability to generate ideas and adapt innovatively to changing environments
The ability to identify problems, create solutions, innovate and improve current practices.

Critical Judgement

The ability to define and analyse problems
The ability to apply critical reasoning to issues through independent thought and informed judgement
The ability to evaluate opinions, make decisions and to reflect critically on the justifications for decisions.

Ethical and Social Understanding

An understanding of social and civic responsibility
An appreciation of the philosophical and social contexts of a discipline
A knowledge and respect of ethics and ethical standards in relation to a major area of study
A knowledge of other cultures and times and an appreciation of cultural diversity.