Content warning: please be advised that this story contains references to warfare and conflict. 
On a typical day in Sydney, Sean Rubinsztein-Dunlop (Bachelor of Journalism/Arts '07) was sitting at a cafe with a source, doing his regular investigative work. At 11am he checked his phone and saw seven missed calls from ABC's foreign editor. 
"I rang back, and she said 'Can you go to Poland toady and possibly into Ukraine? There's a flight around 9pm."
"That's how it all began. I had the day to pack and go into ABC to fit a flak jacket and ballistic helmet, and gas mask...for you know...for the worst possible circumstances. Before I knew it, I was on the plane."
Day to day, Rubinsztein-Dunlop is an Investigative Reporter for teh Australian Broadcasting Corporation (ABC), but his most recent assignment was a secondment as a Foreign Correspondent reporting on the war in Ukraine.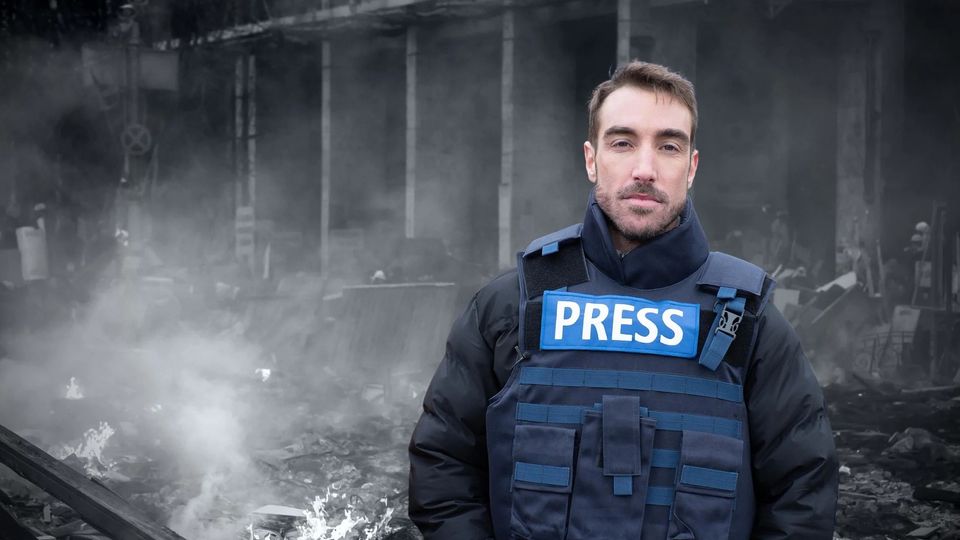 Life on the frontline in Ukraine
"The days are extremely hectic and you're operating on an Australian schedule. Morning to lunchtime in Ukraine is evening news time in Australia."
"And vice versa - night-time in Ukraine is when Australians are tuning into the morning news," he said. 
For Rubinsztein-Dunlop, this meant getting up early in the morning to finalise his story for the 7pm evening news, and always thinking one step ahead.
"I start sprinting right away," he said of his typical morning in Ukraine. 
"When I wake up, it's only when I've finished my evening news duties that I can then turn my attention to the rest of the day's tasks."
"I will have yesterday been thinking about, 'Okay, what am I going to do tomorrow? What can I organise?'
"But obviously, because it's a breaking and unfolding news situation, you've got to be quite agile and responsive and jump on what the latest, most important thing is - if it's possible to do. If it's proximate to you, if it's close to you geographically, which Ukraine being a huge country, often that isn't the case."