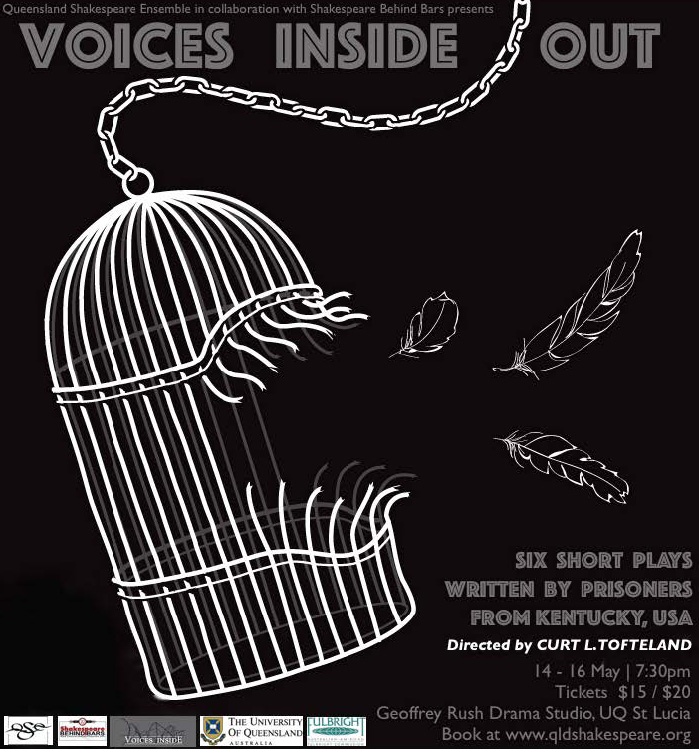 The Queensland Shakespeare Ensemble in collaboration with Shakespeare Behind Bars presents Voices Inside/Out, a slate of six prisoner-authored plays about life on both sides of the razor wire.
The voices of the incarcerated are rarely heard.  Yet prison arts programs around the world have shown that giving prisoners the opportunity to express themselves creatively can be transformative to them, to their surrounds, and to how broader society perceives prisoners, crime, and punishment.
Voices Inside/Out provides a rare opportunity for a public glimpse into prison arts practice, through a collaboration between Curt L. Tofteland, founder of Shakespeare Behind Bars (subject of an award-winning 2005 documentary by Philomath Films) and the Queensland Shakespeare Ensemble.
Voices Inside/Out will perform six short plays written by partcipants in the Voices Inside program in Kentucky.  This play-writing program sees prisoners work peer-top-peer and under the mentorship of professional theatre artists to craft 10-minute plays.  Many of the plays are honoured in the Prison Pen Awards, including the Pen Award winner and runner up.
These plays will be performed by actors from the Queensland Shakespeare Ensemble, under Tofteland's direction.  The plays will be performed in several Southeast Queensland prisons.  Financial support for the Voices Inside/Out project was provided in part by the Australian-Amercan Fulbright Commission and the University of Queensland.
Voices Inside/Out will also have a short season at The Geoffrey Rush Drama Studio, University of Queensland, St Lucia from Thursday 14 May - Saturday 16 May at 7.30pm with a Q&A after the show.  Tickets are $20 (full)/$15 (concession).  Book tickets at www.qldshakespeare.org. 
For interviews, photos, reviews, promotions or other information please contact Chirs Vagg on 0424 597 696 or email info@qldshakespeare.org.