You're invited to attend the 2022 WiP Conference sponsored by The University of Queensland's School of Communication and Arts. We hope you enjoy the journey. The theme for this year's conference is Spiralling into Spring: Resistance, Reinvention and Renewal. This year the conference will be held at the Global Change Institute (GCI), St Lucia Campus  between Tuesday  22 – Wednesday 23 November 2022. 
---
Spiralling into Spring: Resistance, Reinvention and Renewal
The world has gone through unprecedented changes in the last two years. Longstanding systems and structures that were deemed strong have toppled like a house of cards. Agendas that have long been neglected and repressed have come to the forefront. It seems like various aspects of human existence, interactions, communication and connection have been challenged and are being placed in a new order.
In response, we present to you the 2022 WiP Conference, entitled 'Spiralling into Spring: Resistance, Reinvention and Renewal'. Usually we spiral into a negative, as in spiralling costs, or lives spiralling out of control. We have chosen to turn it around and make our 2022 WiP conference spiral into a positive: 'Spiralling into Spring!
There is an innate need for humankind to face the challenges, to recover and heal. Perhaps, a potent way to achieve that is through collaboration that is inclusive, dynamic and sustainable. Our conference, presented by the School of Communication and Arts, serves as a space to discuss impactful solutions and hold these hopeful conversations.
Our themes are aimed towards understanding virtual connectedness, new paradigms in digital technology, sustainability challenges brought on by the pandemic and inclusive growth-oriented solutions to redress long-standing social problems amongst others.
---
Tickets
$110 including GST
*UQ students may pay for conference registration with their UQ conference funding.
Hero Image: "Flower" by brixendk is licensed under CC BY 2.0.
Intergenerational sharing: Quandamooka weaving practices
A very special conversation about reclaiming inheritance with Ngugi women Sonja Carmichael and Freja Carmichael
 Sonja Carmichael and her daughter Freja Carmichael are Quandamooka women from Mulgumpin/Moreton Island and Minjerribah/North Stradbroke Island east of Brisbane, Queensland. They belong to the Ngugi people, one of three clans who are the traditional custodians of Quandamooka, also known as Yoolooburrabee – people of the sand and sea.
 Sonja is a leader in the regeneration of Quandamooka weaving, passing on cultural knowledge and skills through workshops, exhibitions, and field research. Freja is also active with her family in Quandamooka weaving practices through her work in the promotion and documentation of First Nations fibre art in curatorial practice. Drawing from their experiences, Sonja and Freja will be in conversation together to share how weaving of Quandamooka Country has come full circle from the near annihilation of cultural practices under the impact of colonisation to the expansion of traditions today that celebrate the resilience of connection and knowledge. Cultural practices such as Quandamooka weaving are once again part of everyday lives and intergenerational expressions of Saltwater identity and culture – mara milbul wunjayi (hands alive today). The conversation will highlight the power and importance of intergenerational sharing and learning, collective practices and the processes of connecting with cultural material to restore the spirit of Ancestral practices through weaving and caring for Country.
---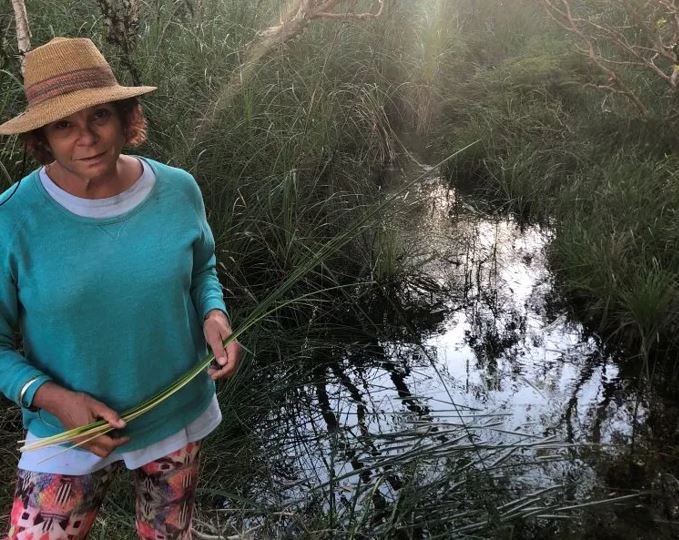 Sonja Carmichael
Is a Ngugi women belonging to the Quandamooka people. Sonja has recently completed her Master of Philosophy at the University of Queensland through practice led research in the regeneration of Quandamooka weaving practices. In her art practice, Sonja works specifically in the medium of fibre basketry and woven sculptures, informed by her family's cultural connections to the land and seas of Quandamooka. She draws inspiration from the many stories connected to Quandamooka weaving, and also explores contemporary materials and techniques – in particular 'ghostnets' and fishing lines – that directly respond to concerns about the preservation of the natural environment. Alongside presenting practical and philosophical aspects of her work, she has shown in many group exhibitions, including: Open Hands, Tarnanthi (2020), Art Gallery of South Australia, Adelaide; Long water: fibre stories (2020), Institute of Modern Art, Brisbane; Legacy: Reflections on Mabo (2019), Umbrella Studio Contemporary Arts and national touring venues. Her work is held in collections such as the Queensland Art Gallery, Museum of Brisbane, National Gallery of Victoria, National Museum of Australia, Australian Museum, Art Gallery of South Australia, and Redland Art Gallery. 
---
Freja Carmichael 
Is a Ngugi woman belonging to the Quandamooka People of Moreton Bay. She is a curator, arts worker and writer dedicating her work to collaborative curatorial approaches and promoting and documenting contemporary Indigenous fibre art. She has worked across the Australian Indigenous visual arts sector on exhibition projects, community collaborations, collection research and publications with art centres, contemporary art spaces and national and international art organisations. Freja has completed a Master of Museum Studies at UQ (2014) and is currently undertaking phd research with the School of Communication and Arts (UQ) in Indigenous fibre art. Freja is also curator of long water: fibre stories (2020-2022), Institute of Modern Art national touring exhibition and co-curator of The National 4: Australian Art Now with Carriageworks.
DAY ONE (TUES 22 Nov): Room 273

DAY ONE (TUES 22 NOV): Room 275

8.30–9.15am

Registration

GLOBAL CHANGE INSTITUTE (BLDG 20) - LEVEL 2

 

9:15–9.30am

 Conference Opening

Associate Professor Margaret Henderson

Deputy Head of School (Operations) - Communication and Arts

GLOBAL CHANGE INSTITUTE (BLDG 20) - LEVEL 2

9.30–10.30am

Keynote Address

Chaired by Associate Professor Sally Butler
 

Intergenerational sharing: Quandamooka weaving practices

A very special conversation about reclaiming inheritance with Ngugi women
Presented by Sonja Carmichael and Freja Carmichael
 

10.30 –11.00 am

Morning Tea

11:00am – 12:30pm  

SESSION 1: Reinventing Creative Practice

Chaired by Venero Armanno

 

My Life in Detail: Detail and the (re)invention of the self as a character in speculative fiction memoir

Presented by Joanne Anderton


Lifelong Learning Philosophy for a Dramaturg? Applying the ALACT Model to Traverse Heuristic Challenges and Guide Critical Reflection

Presented by Rhumer Diball


Three Moods – A Novel Approach to the Short Story

Presented by Kathleen Jennings

 

11:00am – 12:30pm  

SESSION 2

: Retheorising Spaces, Cities and Nations

Chaired by Ted Nannicelli

 

Rationalist Repetition and Transparency for Fascism's Populist Democracy: Edoardo Persico and Marcello Nizzoli's Photomontage Display for the 1934 Italian Plebiscite

Presented by Christian Rizzali

 

Battling Citizenship, Caste, Coronavirus, and Capital in Modi's India

Presented by Hrishikesh Arvikar

 

Travelling into the Anthropocene with Absurdist Theatre

Presented by Oliver Gough

12.30 –1.30pm

Lunch

1:30 - 3:00 pm  

SESSION 3: Re-envisioning Art History

Chaired by Amelia Barikin

 

Reinvention, reflectograms and the tales they tell

Presented by Mike Levy

 

The Politics in Painting: Angry Penguins and the Australian avant-garde


Presented by Tobias Broughton

 

 

 

 

 

1:30 - 3:00 pm  

SESSION 4: Resisting the Dominant Gaze

Chaired by Aparna Hebbani

 

Humour as 'masking and revealing' gender structures: An examination of the male gaze in interpersonal communication between female passengers and male drivers in India

Presented by Abza Bharadwaj

 

The 'Female Gaze' on TikTok: Contemporary Online Feminisms and Feminist reinvention of the Self         

Presented by Bonnie Evans

 

Regulating Self-Presentation through Hair: An Analysis of Uniform Policies in Queensland High Schools

Presented by Kayla Mildren
 

3:00 – 3.15 pm

Afternoon Tea

3:15 – 4:15 pm  

SESSION 5: Reconsidering 18th and 19th Century Literature

Chaired by Jennifer Clement

 

Transcultural Courtship Novels in the Long Eighteenth Century: Global Trade in China and England

Presented by Min Wu

 

Pluto in 'The Black Cat': a Lucifer of Domestic Unrest           

Presented by Renata Verkaaik

 

3:15 – 4:15 pm  

SESSION 6: Reconfiguring the Human and Nonhuman

Chaired by Amelia Barikin

 

The Karrabing Collective: Contemporary Indigenous Narratives of Human-Nonhuman Imaginaries

Presented by Carol Schwarzman

 

Mapping healing geographies; walking with flows of joy along the Kedron Brook with butterflies (Pecha Kucha)

Presented by Kathryn Blumke
Unity in Diversity: The Purpose and Power of a World-Embracing Vision
What does gender equality have to do with economic prosperity? How is climate change connected to racial injustice? How are gender constructs causing geo-political instability? How can the aged-care crises be solved through cultural awareness? And how could these issues all possibly be interconnected? 
These complex questions likely do not have a one size fits all solution.  Drawing from his experience in diverse and seemingly disparate areas of social change, social justice and community development, Erfan Daliri will share his thoughts on the interconnectedness of the myriad movements and causes for justice, equity and inclusion, while highlighting some of the potential underlying root causes. 
By outlining a systems thinking framework and approaching the matter of local and global prosperity through the lens of equity, Erfan will present the hypothesis that movements as varied as climate action, racial equity, gender equality, economic justice, access and inclusion, First Nations sovereignty and others, are all actually interrelated and share common causes, and therefore common solutions.    
Could this realisation be the momentum shifting moment we need to establish a common ground and a shared approach to affecting genuine, authentic and sustained social change? And could the world-embracing vision of achieving the full capacity of our humanness and humanity, be a more effective approach to eliminating inequality than the act of "fighting injustice" as we spiral into a new spring?
---
Erfan Daliri
Is an author, educator and social change consultant living on Palawa Country in Lutruwita. He is the founder and CEO of Kind Enterprises, an international consulting firm that provides training and strategic planning services for organisations who want to make a positive impact in the world or their workplace. Erfan specialises in Systems Thinking for Social Change and JEDI training (Justice, Equity, Diversity & Inclusion), with a particular interest in the areas of racial equity, economic justice, gender equality and climate action.
Erfan is currently working as a racial equity consultant and educator, with corporate and not-for-profit organisations across the world, as well as government departments across Australia including the NSW Department of Education and Department of Justice Tasmania. He is leading a joint-venture with the Centre for Social Justice and Inclusion from the University of Technology Sydney, developing anti-racism training programmes for university students and the corporate sector, with support from the Jumbunna Institute of Indigenous Education and Research. 
Erfan has a Master's in Communication for Social Change, and 20 years' experience in a variety of areas including community development, cross-cultural relations, youth engagement, Indigenous advocacy, migration and settlement, sustainability and social cohesion strategy. He is also the founding director of Newkind Social Justice Conference, a founding board member of the Culturally Diverse Alliance of Tasmania, and a Fellow of the Post-Growth Institute.  
LinkedIn: https://au.linkedin.com/in/erfan-daliri
DAY TWO (WED 23 Nov): Room 273

DAY TWO (WED 23 NOV): Room 275

9.30 – 10.30am

Keynote Address

Chaired by Swastika Samanta

Unity in Diversity: The Purpose and Power of a World-Embracing Vision

Presented by Erfan Daliri

10.00 – 10.30

Morning Tea

10.30 am – 12.30 pm  

SESSION 7

: Responding to Contemporary Developments in/through Communication

Chaired by Shuang Liu

 

Acculturation and Integration of Rohingya Refugees and Asylum-Seekers in Malaysia

Presented by Balqis Aini Mustafa

 

Diffusion of New Media and Public Service Broadcasting: Is New Media a Lifeline for Public Radio Broadcasting in Bangladesh?

Presented by Amdad Hossan

 

Vietnamese government pandemic communication effectiveness and behavioural responses: A conceptual framework.

Presented by Thu Luong Le

 

Re-branding Country Image Abroad: The Efficacy of Mega-events in KSA

Presented by Mohammed Alghamdi

10:30 am – 12:30 pm

SESSION 8

: Revisiting Practices of Community

Chaired by Richard Newsome

 

Summoning Memories: Towards an Ethnography of Nostalgia in Magic: the Gathering Communities

Presented by Kyle Medlock

 

Rearticulating the scene: patterns of change, resistance, and renewal in music scenes

Presented by Freya Langley

 

Tracing opportunities for reinvention in the academic writing landscape of an Australian university

Presented by Bernadette Huber

 

 

 

 

 

12.30 – 1.30 pm

Lunch

1:30 – 3:30 pm  

SESSION 9

: Rewriting and Rereading Identity


Chaired by Venero Armanno
 

Portraying 'Asian' identity beyond the limits of the literary label 'Asian-Australian' in contemporary Australian fiction

Presented by Olivia Jayne De Zilva

 

Strategies for 'Acespeculative' Literary Criticism: An Asexual Reading of Ottessa Moshfegh's My Year of Rest and Relaxation 

Presented by Rosie Clarke

 

Our Own Time and Space: Locating Autistic Poetics in Theatre

Presented by Sarah Wilson

 

Blood and Ink: Uncovering Generational Commonalities in Family Memoir

Presented by Rachel Laundy

 

 

 

 

1.30 – 3.30 pm 

SESSION 10

:

PART 1: Rethinking Writing through Science and Nature

PART 2: Rethinking Environmental Communication


Chaired by Skye Doherty



Connecting with Nature through Fiction

Presented by Samantha Wheeler

 

Science Fiction: The Value of Fact

Presented by Amanda Niehaus

 

Climate change adaptation and development: A double-edged sword?

Presented by Debashish S Dev

 

Influences of social media-based communication on ecotourism in climate change affected areas in India – a social change perspective

Presented by Swastika Samanta

3.30 – 3.45 pm

Afternoon Tea

3:45–4:45pm 

Unconference:

A conversation on next steps to reclaiming inheritance and uniting for a world-embracing vision

Chaired by Swastika Samanta

With:

Associate Professor Nicholas Carah

Dr Franzisca Weder

Doreen Busolo

Bonnie Evans

 

Closing Remarks

Mike Levy

5:00 pm 

'Why WiP?'

Associate Professor Venero Armanno

 

5.30 pm

Dr John McCulloch Award Ceremony

 

5.45 pm

Dr Melanie McKenzie Postgraduate Teaching Award

 

6.00-7.30 pm

Dinner and Drinks in GCI Atrium
The School of Communication and Arts at the University of Queensland invites you to submit papers for the 2022 WiP Conference. This will include panel discussions, workshops and a special concluding award ceremony. The theme of the conference is Spiralling into Spring: Resistance, Reinvention and Renewal. 
Additional Details
This year's "Work in Progress" Conference welcomes papers across disciplines – arts, humanities, communication, technology and environment. Potential topics and research areas include, but are not limited to:
The arc of a change in the image or the era, as a record or reflection of societal or cultural shifts across time: symbolism, iconography and use of metaphor as a means of expression and communication; Event horizon: crossing through the whirlpool from one reality to another.
Time, temporality, memory, impermanence, separation, absence and renewal
Tension and resistance: protests around the world, power dynamics, class struggles, gender and sexuality, femininity and masculinity, crumbling of structures and systems, COVID communication, vaccine inequality, consciousness, autonomy, freedom, grassroots, exploring changing storylines in mass/social media
Reinvention in technology and humanity including AI, human computer interactions, social connectedness, new art/media forms and narratives, new communication patterns, technology for environment, conservation and sustainability stories
Renewal in post-covid era: identity (re)construction, new ways of consuming media, virtual interactions, new storytelling, sustainability, environmental conservation, environmental politics, social impacts in communities, communication for social change, traditional ecological knowledge, shifts in the natural environment/climate, cultural/societal shifts as a result and global/local responses to significant events
The Fibonacci sequence, spirals and the golden mean: patterns and repetition, reproduction and mirroring and the promise of new life
Paper submissions
Email an abstract of no more than 300 words, a brief biography (50 words) to uqwip2022@gmail.com by 24 September 2022.  We also welcome papers in alternative formats, i.e. performance papers. 

 
The School of Communication and Arts is delighted to continue the annual Dr John McCulloch Memorial Prize (valued at $1000). 
The prize is open to any Higher Degree Research (HDR) student within the School who presents a paper at the forthcoming 2022 WiP Conference.
---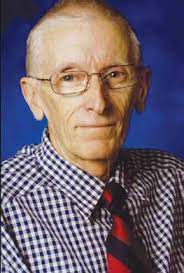 Dr John McCulloch OAM (1938-2010) died of pancreatic cancer in 2010, shortly after submitting his PhD thesis, a biography of Queensland suffragist Elizabeth Brentnall. John was a researcher with a special interest in the advancement of gender equity. His published work includes From Suffragists to Legislators, written to mark the 100th anniversary of women's suffrage in Queensland. John was a senior parliamentary research officer at the State Parliamentary Library (1984-1995), but also found time to undertake voluntary work for the Queensland and Australian Youth Hostels Association, served as convenor of the Homelessness Taskforce 99, and was a part-time researcher for St Vincent de Paul. John was awarded an Order of Australia Medal in January 2000 for service to youth.
Premier Anna Bligh is recorded in Hansard (28th October 2010) as stating in Parliament, "The word 'progressive' is bandied about constantly in political circles and its definition is widely argued, but to my mind John McCulloch was a true political progressive. He was a deep thinker, an activist and a doer." John had a long connection to The University of Queensland: roles included activity as a student, as a tutor, and as an elected Sub-Dean of the Arts Faculty. He was a member of the first Campus Camp group, established in 1973, and continued throughout his life to be a strong advocate on equity issues. Dr John McCulloch significantly contributed not only to the lives of students in the School and the University, but also to the WiP Conference which he convened and attended while he was completing his studies. But to many of us, John was an unassuming fellow student - supportive, collegial and encouraging.
We are delighted to have the support of John's family and partner Gary in creating this prize, for Communication and Arts students, in memory of a fellow student. Gary Portley has generously offered to donate the prize to be offered at this WiP conference in memory of Dr John McCulloch OAM. The award will be presented at the conference to the author of the winning paper.
---
How to Apply
School of Communication and Arts HDR students participating in the forthcoming WiP conference are invited to submit their written papers to uqwip2022@gmail.com by 3pm, Friday 11 November 2022.
This deadline is final and there will be no extensions. 
Only UQ School of Communication and Arts students presenting at the conference are eligible.
Written papers should be fully referenced and be no longer than 2000 words (excluding bibliography). Your written essay should be accompanied by a cover page that must include: your full name, your essay title, the names of your supervisors and your thesis title.
---
Judging
Papers will be judged by an SCA panel, drawn from across a range of disciplines, and the decision of the judges will be final. Judges will select the winning paper based on academic standards; criteria include argument structure, knowledge of the field, clarity of written expression, attention to referencing, and salience of content in relation to the annual conference theme. The papers must be presented at the conference for the SCA student to be eligible for the award.
Conference general enquiries
Please write Enquiry for WiP 2022 in email subject heading
---
Conference paper submissions
Please write Paper submission for WiP 2022 in email subject heading
---
Dr John McCulloch Memorial Prize submissions
Please write Dr John McCulloch Prize submission for WiP 2022 in email subject heading
Mike Levy 
Mike Levy is a PhD student in Art History in the School of Communication and Arts. He is studying the Flemish artist Joachim Patinir who worked in Antwerp 500 years ago. Patinir is regarded as one of the first landscape artists, and is known for introducing panoramic 'world landscapes' with high horizons. Mike is hoping to show how singular his works were in terms of perspective and iconography, and his importance and relevance today. Previously, Mike was an academic in the School of Languages and Cultures at the University of Queensland.
---
Bingxi Huang 
Bingxi Huang is a PhD student in Communication and Media Studies in the School of Communication and Arts. Her PhD research topic is on Chinese rural women's self-representation and identity construction on short-video platforms Douyin and Kuaishou. This is a topic worth discussing and exploring for its juxtaposition of many elements such as platform economy, gender inequality, urban-rural divide, rural discourse system, China's political economy and censorship system, etc. Her research interests include media and cultural studies, Chinese discourse studies, identity studies and gender studies.
---
Swastika Samanta 
A doctoral candidate at the Centre for Communication and Social Change, my project is at the intersection of communication (online and offline), sustainable tourism and environmental management, ultimately focused on communication for social change. With prior experiences in consulting and the start-up ecosystem, future goals lie in policy development and creating social impact at the grassroots.