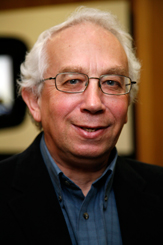 Two University of Queensland journalism experts have been selected to take up positions as Members of the Board of the newly formed Foundation for Public Interest Journalism.
Professor Michael Bromley (right), Head of the School of Journalism and Communication, and Adjunct Professor Chris Masters, from the same School, were chosen from over 40 high-caliber nominations which included leading Australian journalists, publishers, journalism academics, community advocates and online media innovators.
The not-for-profit Foundation, based at Swinburne University of Technology's Institute for Social Research in Melbourne, will explore new business models for journalism, and will support investigative, interactive journalism while exploring ways of making good journalism sustainable in the new media age.
Professor Bromley is delighted to be part of such a membership.
"In an information rich, knowledge-based culture there is a need for more journalists who can broker information flows and counter-flows. At the moment, the traditional media seem to be incapable of delivering this - which is why this initiative is important and timely. As a major force in the education of journalists and communicators, UQ is keen to play a central role in exploring how we can grow journalism for now and the future," Professor Bromley said.
As well as publishing works of journalism, the Foundation will make a major contribution to journalism education and research.
The new board includes:
Ms Bronwen Clune: Director of Norg Media
Mr Chris Graham: Co-founder and editor of the National Indigenous Times newspaper.
Mr Jonathan Green: Editor, Crikey
Mr Steve Harris: Strategic consultant
Mrs Elaine Henry OAM: Chief Executive Officer, The Smith Family,
Mr Gerard Noonan: Freelance business journalist, chair of Media Super, and active in the Australian Council of Superannuation Investors and the Australian Institute of Superannuation Trustees.
- Professor Julianne Schultz AM: Founding editor of Griffith REVIEW, and a Professor at Griffith's Centre for Public Culture and Ideas, a member of the board of the Australian Broadcasting Corporation and the Arts Minister's Creative Australia Advisory Group.
Dr Margaret Simons: Freelance journalist, author and lecturer at Swinburne University of Technology, Simons has published seven books and numerous essays and articles over her 29 year career as a professional journalist.
Ms Melissa Sweet: Freelance journalist and author, with adjunct positions at University of Sydney's School of Public Health and University of Notre Dame's Medical School (Sydney campus)
Professor Julian Thomas: Director of the Institute for Social Research and Professor of Media and Communications at Swinburne University of Technology.
Dr Margaret Simons has been appointed interim chair of the board, and Melissa Sweet is the interim secretary.
The foundation will also fund worthy journalism projects initiated by either members of the public or practising journalists. Its first project will be to establish a website through which members of the public and journalists can come together to organise journalistic projects without the intervention of Big Media. This will be partly modelled on USA experiments such as www.spot.us 
Projects will be assessed on their capacity to serve the public interest, with priority given to issues that are under-reported by the traditional media.
24 July 2009