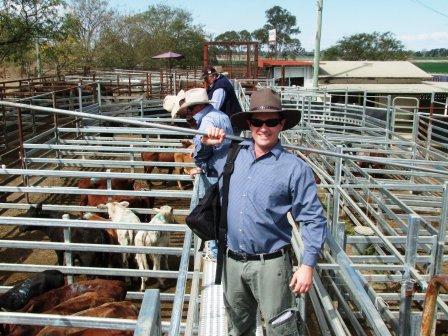 George Smith, 38, earned a Graduate Diploma in Journalism in 2010, and now is "journalist/ photographer/ banking/ finance/ advertising manager" of a local paper 500 kilometres north-west of Brisbane.
Since June 2012, George has been the one and only journalist for the Monto Office of the weekly Central and North Burnett Times, with a readership of 10 000.
"A small bush newspaper is the best way to learn; I don't have the luxury of any office support staff - it is all me!" says George.
"Working solo means we have to cover pretty much everything in our areas; cattle sales, CWA meetings, football games, 100th birthday celebrations, you name it we're there.
"This can only be good for the professional development of a journalist."
George says that the key to securing his full-time first gig was a great deal of work experience during his student days.
"I did work experience with a variety of publications: Westside News, Ipswich News (Internship), The Sunday Mail, Renew (Alternative Technology Association) and Inside Waste. The stories I did for the first two enabled me to do work experience for the next two."
"When searching for degree related employment I was then able to show my work experience stories to potential employers. I can't stress enough how important it is to get some work experience under your belt, you can never do too much work experience.
When he graduated, George hit the road. "I decided print offered the best chance of gaining entry to the media industry. I knocked on nearly every door from Bundaberg to Tamworth.
"I politely asked to speak to the editor or someone high up the chain of command. Honestly, don't be scared- I think this gets you more brownie points than say a phone call or emailing your resume. A potential employer will be impressed that you have been prepared to come to them and meet face to face.
"My search finished when I received a friendly call from the editor of the South Burnett Times asking if I was interested in the job as the Monto Journalist for their companion publication the Central & North Burnett Times.
" 'Definitely', I replied."
George was thrown in the deep end with a brief three day induction at head office in Kingaroy followed by a one week crash course in Monto with the journalist he was replacing.
"When left to my own devices I worried I had walked into the wrong job. But within a week I started gaining confidence in the office/technical side and got to work at winning the trust of the locals," says George.
"Being my first media job I am on probation with the review due around December/January and if they still like me I will look at doing two years before moving to another APN publication, or something completely different.
"Then again I might never leave, George adds.