2017 Lloyd Davis Public Lecture: Shakespeare, Religion and the Making of the Modern City
13 September 2017

6:00pm

–

7:15pm

Shakespeare, Religion and the Making of the Modern City
Professor Ewan Fernie, University of Birmingham and Chair and Professor of Shakespeare Studies at The Shakespeare Institute, Stratford-upon-Avon UK
Abstract:
This lecture will present a genuinely alternative vision of Shakespeare, Englishness and modernity from the annals of England's second city: Birmingham.
George Dawson (1821-76) is now almost entirely forgotten, but his statue stood at the civic heart of Birmingham till 1951.  Addressing passers-by in a lively attitude, under a canopy that was decorated with medallions of, among others, Shakespeare and Oliver Cromwell, it stood in front of the world's first ever Shakespeare Library, one whose doors were open to all the people of Birmingham, who owned it—and indeed, still own it.  Holding in excess of 40,000 volumes, including a First Folio, in 93 languages, 15,000 playbills, 2000 musical scores, and so on: this is surely one of the most remarkably democratic great cultural collections in the world.  But Dawson's library is now completely uncurated, shut up in the stacks, shameful testimony to the loss of 'an increasing intention to give everything to everybody' which characterised his progressive construal of culture as much as material wealth as truly a 'commonwealth' to be shared.   Such was Dawson's 'Civic Gospel': a revolutionary movement that transferred the passion and mission of traditional religion into modern urban culture.   As a result, Birmingham became the 'most artistic town in England', even 'the best governed city in the world', a pattern for life in the modern metropolis.  When Dawson's statue was first unveiled, it was therefore solemnly acknowledged that 'the name of George Dawson was famous, and his friends abounded far down in the South, beneath the bright beams of the Southern Cross, and far away amid the golden homes of the setting sun on the Pacific coast'.
And yet—Dawson was controversial, at one time the most hated man in England.  When, around 1860, a scion of the Blythe family visited Birmingham from Adelaide, he expressed surprise 'that there was not more anti-Dawson talk; he said such feeling was much stronger with them'.  Minister of a Church which he himself called 'The Church of the Doubters', Dawson insistently, courageously and almost comprehensively reinvented religion and canonical culture for new times as a vocation for insurgent liberal activism and solidarity, and Shakespeare, even more than the Bible, was his sacred text.  In restoring him to his rightful place in history, this lecture will argue he still has something to teach us.

Presenter Bio:
Ewan Fernie is Chair and Professor of Shakespeare Studies at The Shakespeare Institute, Stratford-upon-Avon.  He is author of Shame in Shakespeare, The Demonic: Literature and Experience and Macbeth, Macbeth (with Simon Palfrey).  His latest book is Shakespeare for Freedom: Why the Plays Matter (CUP, 2017). His edited or coedited books include Spiritual Shakespeares, Reconceiving the Renaissance, Redcrosse: Remaking Religious Poetry for Today's World,Thomas Mann and Shakespeare, and the forthcoming New Places: Shakespeare and Civic Creativity.  He is General Editor (also with Palfrey) of the Shakespeare Now! series and is currently working on the creative conjunction of Shakespeare, George Dawson and Birmingham in modern life, both as it happened in the nineteenth century and as it might be recovered as a fresh stimulus to cultural and political creativity today.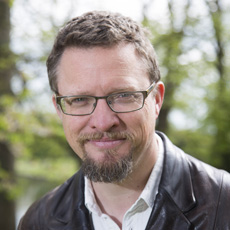 ---
Venue
The University of Queensland Art Museum James and Mary Emelia Mayne Centre (Building 11), St Lucia