AfterImages Master Class 2014: The Diverse Bonds of Family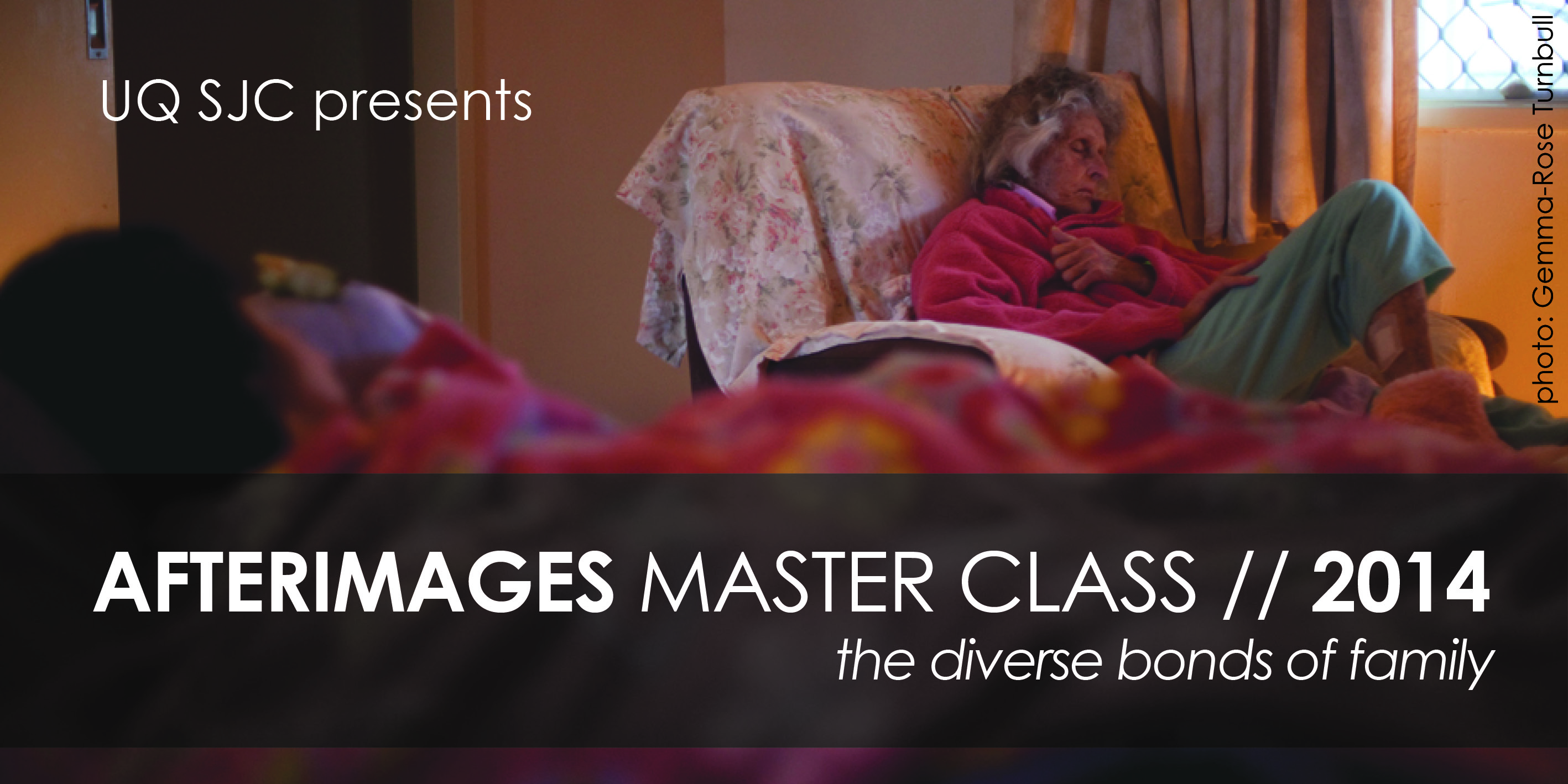 This series of three Master Classes will focus on the development of visual storytelling - from concept to presentation, including the refinement of visual language and sequence editing.  The project culminates with the presentation of student work in an exhibition and website.
The theme of these Master Classes is to explore the importance of family relationships, focusing on the responsibilities and the privileges that remain central to the concept of 'Family' (even as our understandings of that notion become more diverse and inclusive).
In 1955 a very important and influential exhibition opened at the Museum of Modern Art in New York before touring the world. That exhibition entitled 'The Family of Man' was a major work of visual journalism that attempted to express universal aspects of human culture (with a particular the centrality of 'the family'). 70 years on, our notions of family have shifted and evolved into more plural, inclusive understandings of these core relationships. While the original exhibition certainly included diverse cultures across the world, it was still a very traditional definition of 'family'. The AfterImages Master Class series this year will re-examine the notion of family.
Participant requirements
To produce a series of 12-15 images that explore the theme of family.  This could be a visual examination of a participant's own family, someone else's family, or a range of families. Each option comes with it's own challenges and opportunities. Importantly, it must be someone you can access to photograph at least once a week over the semester.
Students will work individually on their own visual projects but will meet in small groups every two weeks with a staff supervisor (using a model based on the COMU1999 'Syndicate' system). Student groups are strongly encouraged to meet more frequently to receive and provide peer directed feedback on their projects. 
 

 Event Schedule

O'Week

2pm

Thursday 24 July

 

Room 208

Joyce Ackroyd Building

Briefing

Students are briefed as to what the project entails - including ALL dates and attendance expectations.  They will be asked to produce a short proposal outlining their intended project (including two images from previous work).  Proposals are to be submitted no later than 5pm Thursday 31 July.

Proposals will be judged on their merit by [Liss, Jody, and outside assessor], and acceptance emails will sent Monday week 2. Once accepted Master Class participants must attend 80% of the events.

There will be will some opportunities to collaborate with separate projects involving family, students can indicate whether they are interested in these options on the day.

Agenda

Outline of project and questions
Look at practitioners such as Doug Dubois, Phill Toledano – Days with my father & Reluctant Father, Darcy Padilla – The Julie Project, Katrin Koenning - Near, Saker Protick – What remains, and more.
Lock in dates (and confirm availability to attend 80%)
 

MaPS Photography Fundamentals Workshop

 

Attending this photography workshop is a prerequisite to borrowing the 'Permission Listed' Canon 60D Digital SLR cameras from the MaPS Office.
 

 

Week 2

10am - 1pm

Saturday 9 August

 

Room 208

Joyce Ackroyd Building

Master Class 1:  Isaac Brown

 

UQ School of Journalism and Communication PhD Candidate Isaac Brown will discuss his visual research practice, which also looks at notions of 'Family'.

We will discuss how you begin to develop and photograph your project. 
The logistics and then bringing concepts to fruition.
How to approach and work with people, navigating ethics, permissions, your voice and perspective.
We will review proposals and give guidance on finding and developing stories. 

Agenda

Form groups, introductions, exchange details
Exercise utilising books and links from exemplars
Isaac Brown's presentation
Each student presents their proposal and identifies exemplars they are viewing
 

 

Week 8

10am - 1pm

Saturday 20 September

 

Room 115

Sir Llew Edwards Building

Master Class 2:

  Tammy Law

In your second intensive Master Class, Tammy Law will explore light and visual language. You will discover how to refine your own techniques and approach to achieving an aesthetic and mood. You will be exposed to their practise and case studies of other photographers work. 

How do you tell stories visually? Exploring compelling compositions and considered observations. You will strengthen your concept and story development with visual language. 

Agenda

Tammy Law's presentation
Students have PRINTED images that they lay out to receive feedback from Tammy Law

 

Week 12

10am - 1pm

Date TBC

 

Room 208

Joyce Ackroyd Building

Master Class 3:  Barat Ali Batoor

In the final Master Class presented by Barat Ali Batoor, your subject is the end product.

Students will present their work they have developed over the last few months and receive feedback from Barat Ali Batoor. 

Agenda

Barat Ali Batoor's presentation
Students present their final series outlining aims, processes and discoveries

 

Week 13 

5pm for 5.30pm ceremony

Tuesday 28 October

Projected Exhibition + Website Launch

 

A series of Barat Ali Batoor's work will be shown on a large LCD screen in digital format. 
Two projectors will show a curated series of work from the Master Class students.

Selected student work from the third Master Class, curated by Barat Ali Batoor, will form the projected exhibition.  The students' completed stories produced during the series will be launched via an online dedicated website providing an ongoing reference tool to the project.
 For more details, please email uqcomu1999@gmail.com