Overview
The Australian Law Reform Commission (ALRC) in partnership with The University of Queensland will be discussing whether the Australian Law Reform Commission should inquire into potential law reform regarding freedom of the press. This Webinar will form part of – The Future of Law Reform Series. 
The School's Professor Peter Greste will be providing his specialised knowledge in an expert panel comprising thought leaders on press freedom and national security addressing questions such as:
Should an inquiry into press freedom be a priority?
What are the particular problems that any future law reform inquiry should seek to solve?
What benefits might be expected from any future reform?
In 2019, the ALRC undertook research and broad public consultation, asking: What are the most pressing areas for law reform in Australia today? In December, the ALRC published its report, "The Future of Law Reform: A Suggested Program of Work 2020-25". This webinar is part of a series to gain feedback and further input on some of the ALRC's suggested future law reform inquiry topics.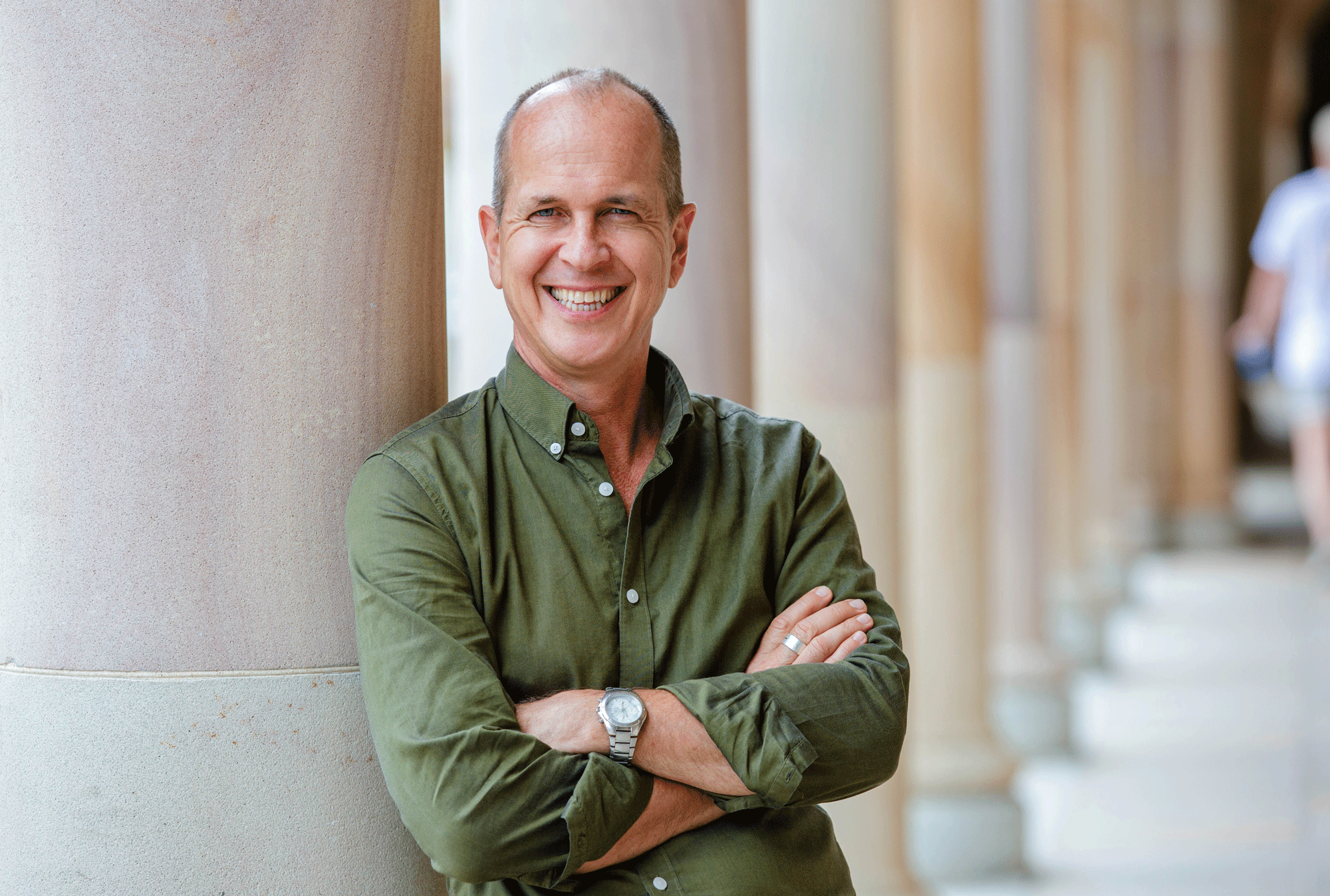 ---
Event Details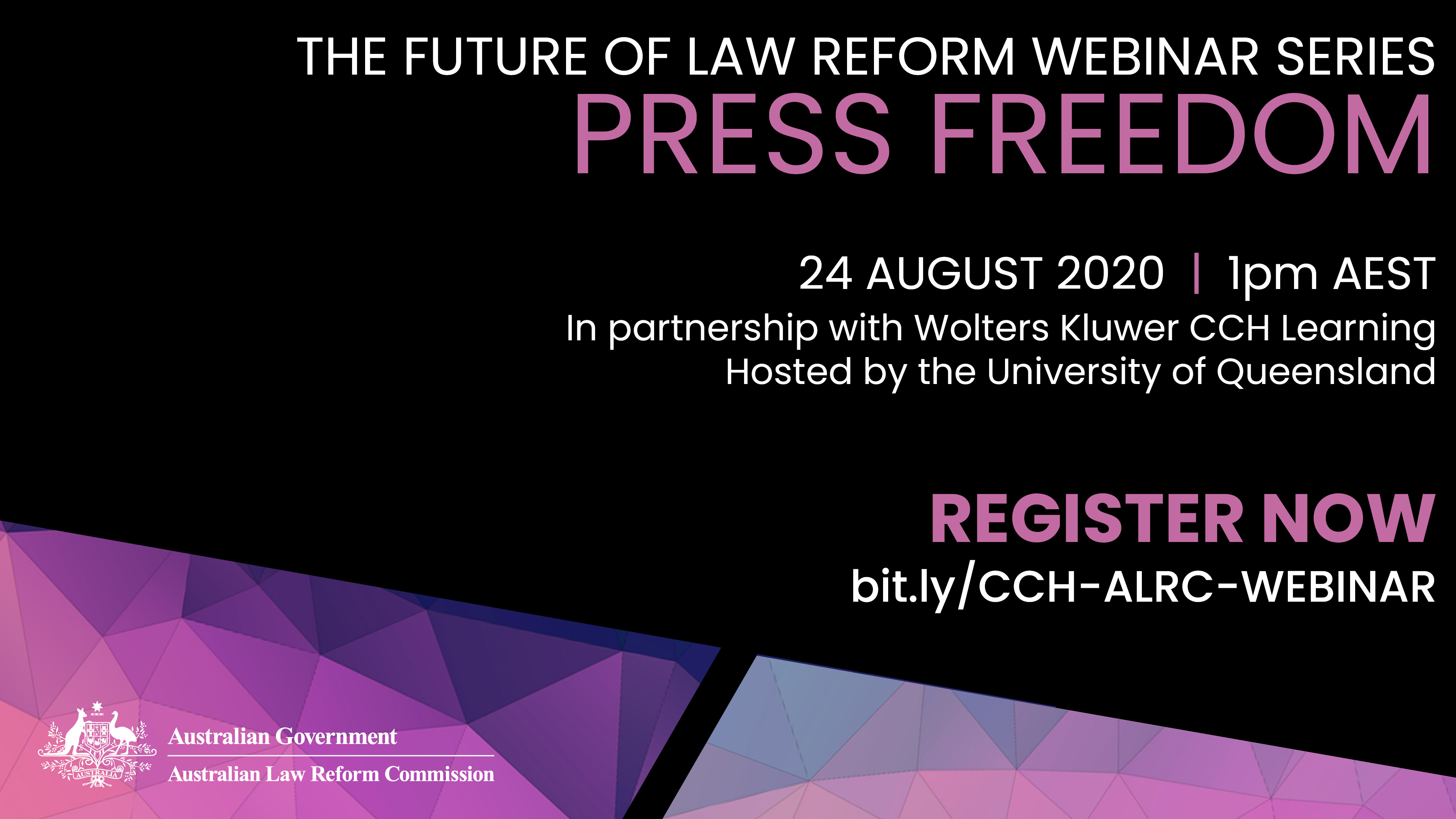 Webinar Learning Outcomes
• Find out the latest developments in regulation of the press.
• Understand contemporary thinking on the various challenges facing journalists, media and security agencies in particular.
• Hear ideas about aspects of the law that might most benefit from a reform inquiry, to facilitate and regulate press freedom.
• Consider the role of the ALRC and the potential benefits of a future inquiry.
Suited to:
Lawyers, industry professionals and members of the public with an interest in press freedom and its limits.
Date:
Monday 24 August 2020
Time:
1–2.30pm AEST
---
Presenters:
The Hon Justice SC Derrington, President, ALRC
The Honourable Justice Sarah Derrington was appointed President of the Australian Law Reform Commission and a Judge of the Federal Court of Australia from 10 January 2018. Prior to her appointment, Justice Derrington was the Dean of Law at the University of Queensland and a barrister specialising in maritime and shipping law, general commercial law and arbitration. Justice Derrington is a Director of the Australian Maritime College (AMC), the Commonwealth's Admiralty Rules Committee, the Council of the Australian National Maritime Museum (ANMM) and is a Fellow of the Nautical Institute and of the Australian Academy of Law. She served as a Director of the Australian Maritime Safety Authority (AMSA) from 2012 until December 2017 and is a past President of the Maritime Law Association of Australia and New Zealand (MLAANZ). She was elected as a Titular Member of the Comité Maritime International in 2016.
 Professor Peter Greste, Alliance for Journalists' Freedom, The Univeristy of Queensland
Peter is an award-winning foreign correspondent who spent 25 years working for the BBC, Reuters and Al Jazeera in some of the world's most volatile places. From Afghanistan, to Latin American, Africa and the Middle East, he reported from the frontlines and beyond, although he is best known for becoming a headline himself, when he and two of his colleagues were arrested in Cairo while working for Al Jazeera, and charged with terrorism offences. In letters smuggled from prison, he described the arrests as an attack on media freedom. The letters helped launch a global campaign that eventually got them released after more than 400 days in prison. He has since become a vocal campaigner and advocate for media freedom – a stance that has earned him awards from Britain's Royal Television Society, the Walkley Foundation, the RSL's ANZAC Peace Prize, the Australian Human Rights Commission's Human Rights Medal, and the International Association of Press Clubs' Freedom of Speech Award. He has written about his experiences in Egypt and what he regards as the global war on journalism in a book, The First Casualty.
Jacinta Carroll, Australian National University
Jacinta joined the National Security College as the Director, National Security Policy, in August 2017. Previously, Jacinta was the inaugural Head of ASPI's Counter Terrorism Policy Centre, a position she held since August 2015. Jacinta joined ASPI from the Australian Government where she had held a variety of Senior Executive appointments, and worked in the Department of Defence and the Attorney-General's Department. Her career experience includes working on national security, counter-terrorism, strategic policy, border security,
military operations, campaign planning and scenario development, information management, and international policy with a particular focus on the Middle East and Afghanistan; she has served in Iraq. Jacinta is a graduate of the Australian National University, has post-graduate qualifications in management from Flinders University, and holds Masters degrees from the University of Sydney and Deakin University. Her Masters theses examined United Nations Peacekeeping, and Asia-Pacific Regional Security.
Georgia-Kate Schubert, Australia's Right to Know Coalition
Georgia-Kate was appointed Head of Policy and Government Affairs at News Corp Australia in 2012. She is responsible for policy issues and government affairs for News Corp Australia and its assets across Federal and State jurisdictions. In addition to her current role, she leads the Australia's Right to Know Coalition. She began her public affairs career as a media adviser and policy adviser for Senator Ian Campbell in the communications and treasury portfolios. Georgia-Kate then worked for multinational Vodafone in various public affairs roles, and also in the Australian mining industry in strategy and policy roles.
Dr Rebecca Ananian-Welsh, The University of Queensland
Rebecca is a constitutional law scholar and Senior Lecturer at UQ Law with combined expertise in national security law, courts and press freedom. She has published widely in these fields, including two edited collections and articles in leading academic journals. In
2019, Rebecca's research in counter-terrorism law, fair trial rights and press freedom was recognised in the Academy of Social Sciences in Australia's Paul Bourke Award for Early Career Research and a UQ Faculty of Business, Economics and Law Research Award. Her book 'The Tim Carmody Affair: Australia's Greatest Judicial Crisis' (co-authored with Gabrielle Appleby and Andrew Lynch), was shortlisted for a 2017 Queensland Literary Award. Before commencing her academic career, Rebecca held positions with DLA Piper Sydney and the Federal Attorney-General's Department Canberra. Her current research combines legal and empirical approaches to examine the impact of national security law on press freedom.
---
.