Television Now: Medium, Spectatorship, Value Reading Group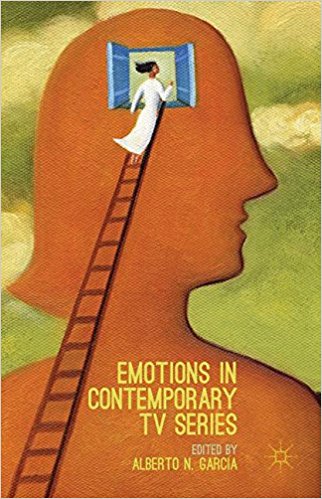 This group meets fortnightly on Fridays 10-12 in Michie 443 to discuss current research on contemporary television and workshop our own research on it. The group is organised around the presence of a visiting scholar, Associate Professor Alberto N. García, who is researching television aesthetics at UQ in 2018.
García is an Associate Professor of Film and Television Studies at the School of Communication, Universidad de Navarra (Spain). He has been Visiting Scholar at Fordham University (New York), George Washington University (Washington D.C.) and Visiting Professor at the University of Stirling (United Kingdom) and Universidad de Los Andes (Chile). He has also lectured at the Arizona State University (Phoenix) and the Universidad Pontificia of Salamanca (Spain). His most recent book is Emotions in Contemporary TV Series (Palgrave, 2016). He has published his work in journals such as Post Script, Comunicación y Sociedad, Palabra Clave, Zer or Analisi. He is also co-editor of the book Landscapes of the Self. The Cinema of Ross McElwee (2007) and author of El cine de no-ficción en Martín Patino (2008). He has also contributed in books about TV Series such as The Wire, Supernatural, In Treatment or Breaking Bad. You can check all his work at his academia.edu profile.
---
UQ Feminist Reading Group
The UQ feminist reading group is an interdisciplinary community of feminist scholars and students. We meet on the last Friday of each month, at 4pm, to discuss a theme through specific feminist readings. We welcome students and staff from all disciplines to contribute to this discussion. 
---
George Orwell Reading Group
The works of British writer and journalist George Orwell has seen a resurgence in popularity since the election of Donald Trump.  Hailed as a literary hero by both the Left and Right, Orwell's work is crucial to understanding our times. This group will meet on the third Tuesday of every month from 10am to 11am at St Lucy's Cafe. We are currently reading Orwell's Homage to Catalonia. All are welcome.
---
Literature and Environment Reading Group
Established by Dr. Jessica White, the Literature and Environment Reading Group is open to anyone interested in environmental/ecological themes in literature and criticism. The group meets monthly (usually on a Friday from 2:30-3:30pm) on campus.. 
---
Foucault Reading Group
The Foucault reading group will meet on Thursday mornings, 10:00-12:00, in Michie 827. All are welcome.
---
Contemporary Australian Novels by Women Reading Group
All are very welcome to participate in the newly-formed Contemporary Australian Novels by Women Reading Group, to be held monthly in Room 708 (Michie Building) from Thursday 17 March 2016 from 3:00-4:30pm. Each month, the group will discuss a pre-selected 21st-century novel by an Australian woman writer. The first novel will be Charlotte Wood's The Natural Way of Things, however suggestions for future novels are warmly invited.
---
Drama Reading Group
Comprising postgraduate and honours students, and staff, this group meets two or three times during semester to discuss theatre theory and practice, and issues relating to performance.
---

Finnegan's Wake Reading Group
Meeting the first Thursday of every month at Avid Reader, West End: 6pm - 8pm.  
---
---
Literary Theory and Criticism Reading Group
This group is reading all the major works of the western critical tradition since the Greeks, and material bearing on that. All are welcome! The group's convenor is Dan O'Neill, a former member of the School and currently Honorary Research Advisor, who can be contacted for further information. At the present time we are meeting between 2:30pm and 5:30pm every Friday in the Michie building. From Friday, 13th July, we will be reading William Blake. We will be reading him not mainly for his poetry (though we will certainly read some of that) but for his ideas about poetry and art, and not least for his strikingly original ideas about the human imagination at a time when that was a hot topic among all the English Romantic poets and in Germany and Europe generally, in literature and philosophy alike.
---
---
Michie Reading Groups
These groups meet every Thursday between 1 - 5pm at Kings College, UQ St Lucia campus. The groups are led by Dan O'Neill, an Honorary Research Advisor with the School, and have been running since early 2003. The groups are quite informal, highly social and welcome new members. The first group begins at 1pm and goes until 3pm and the second group, which meets after afternoon tea, begins at around 3.20pm.  
We are now getting to the end of Herman Melville's Moby Dick, and after that we will move on to choose the next book.  If you would like to be in the group and participate in the choice of the next book, please feel free to direct an email to the organiser of the vote on the next book, Jocelyn Geraghty: jocg98@gmail.com
---
Rhetoric Group 
There is a Zoom group which is reading Aristotle's Rhetoric in the W. Rhys Roberts translation (as in the Great Books of the Western World series, no.9, Aristotle II, and probably available somewhere on the web).  It meets every Thursday night from 8 pm to 10 pm.  If you are interested in this group, contact Dan O'Neill (d.oneill@uq.edu.au)
---
The Iliad Reading Group
This group is going to read Homer's Iliad in the Robert Fagles translation that is available from any good book store, or can be downloaded here: https://zodml.org/sites/default/files/%5BHomer%5D_The_Iliad_%28Penguin_Classics_Deluxe_Edition.pdf.  The time is 8pm - 10pm every Thursday night, at 6/20 Drury Street, West End, the house of Dan O'Neill.
---
The 17 Group
This is a cultural discussion group that hosts discussions of important issues in contemporary, modern, and historical literary, cultural, social, and political life. Each meeting is addressed by a speaker or a panel of speakers with knowledge of the chosen topic, after which the topic is thrown open for general discussion in the meeting. Food and beverages are provided at the meetings.
The meetings occur at 7pm on the first Wednesday of each month, at 6/20 Drury Street, West End. Participants are notified of the topics nad speakers by email. All are welcome. 
So if you want to attend you can arrange to be put on the mailing list to be notified of the meetings by sending an email to Dan O'Neill at d.oneill@uq.edu.au
---
Pastoral Reading Group
This group reads a range of literary and critical texts relating to the pastoral tradition, and to classical and environmental writing more generally. New members are welcome. No preparatory reading required, no texts necessary. All meetings will be in room 827, Michie Building (Building #9) unless othewise advised, from 4:00pm - 4:30pm (11 March, 8 April, 29 April, 20 May, 10 June. 1 July).
---
If you are interested in starting a reading group and think it might interest our community, please contact communication-arts@uq.edu.au for possible inclusion on this page.