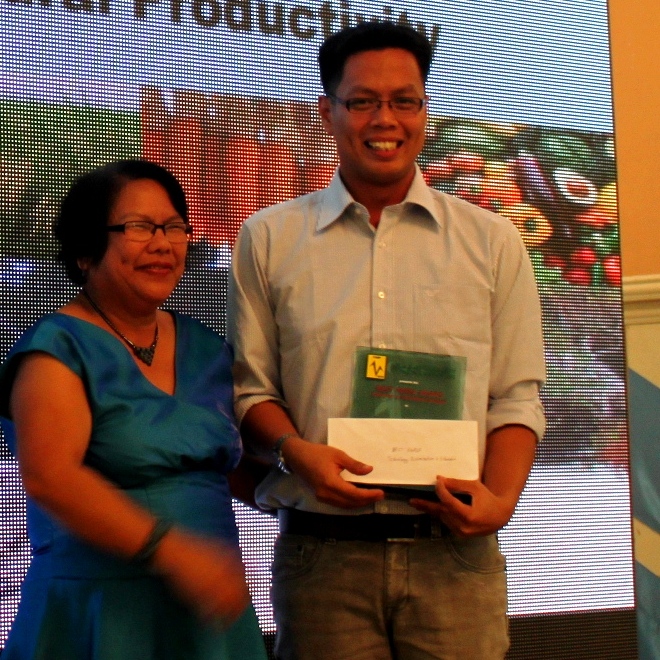 Jaime Manalo IV, a Master of Communication (Communication for Social Change) alumnus, has continued his successful research career by winning a Best Paper Award at the Crop Science Society of the Philippines (CSSP) Annual Conference, held April 16-21.
 
The paper titled 'Really, they don't want to farm? Challenging existing orthodoxies on youth perceptions on rice farming in the Philippines' was co-authored by Associate Professor Elske van de Fliert.
 
The paper challenges the assumption that young people in the Philippines no longer want to farm, finding instead that they want a different connection with farming.
 
"The belief that the younger generation is not interested in farming has resulted in almost zero efforts to engage the youth on rice farming and fears that Philippines might encounter a scarcity of future food producers" said Jaime.
 
"Although the findings of the study say that the young people will leave farming, they want to remain connected. Many of the participants said 'once a farmer, always a farmer!'"
 
Jaime's research identified that this may become a self-fulfilling prophesy.
 
"The fear that the youth will abandon farming someday might easily happen if we do not engage them. The paper calls for the public, private and non-governmental sectors to invest on initiatives that will indirectly involve the educated youth in rice farming," said Jaime.
 
Winning in the Technology Extension, Dissemination and Education category, the paper suggested two ways of indirectly engaging youth in farming.
 
"In the short term, they could be mobilised as 'infomediaries' for their parents. Infomediaries are ICT-literate people who access ICTs for those who cannot access them.
 
"In the Philippines there is a wealth of information on improved rice farming techniques from the websites such as PhilRice and the International Rice Research Institute. However, given issues like computer and functional illiteracies, access, and computer anxiety, farmers will never be in the position to benefit from these ICT-based interventions.  But youth can access information for their parents.
 
"In the longer term, we need to reframe the discourse surrounding youth and see them as future investors. Rice farming in the Philippines is input-intensive and we need people who will provide capital investment in the future. Educated youth can send remittances back to the Philippines so their relatives can continue planting. Many of the research participants wanted to buy land someday so they could employ their poor relatives.
 
The prestige of the award is one thing, said Jaime, but he is mostly "happy that some of the brightest minds in Philippine agriculture were able to listen to my ideas, and I think my ideas were well received".
 
Jamie's successes do not end there; he has obtained funding to pilot test recommendations from his thesis from the Philippine Rice Research Institute and is leading an infomediary campaign in Aurora province.
 
Jaime was an Australian Leadership Awards scholar from the Philippines who graduated from UQ in 2011. He now works at the Philippine Rice Research Institute.