by Bruce Woolley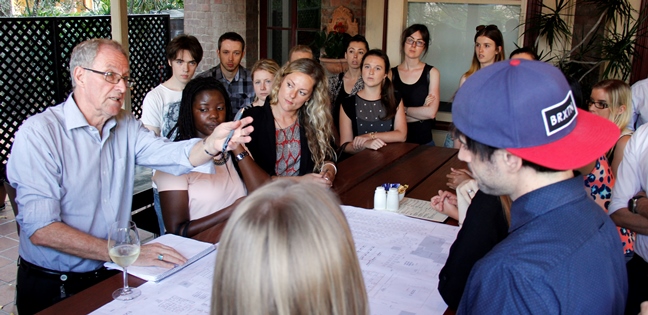 When world leaders from 20 of the most industrialised countries gather in Brisbane for a summit on 15 and 16 November, UQ journalism students will be actively engaged in reporting on their discussions and providing analysis of their actions for an international audience.
They have been accredited as reporters by the G20 organisers and will have full access to media scrums, leaders' news conferences and all major events.
Ten students from the School of Journalism and Communication are taking part in another Work Integrated Learning course for credit (JOUR3401) along the lines of 'Vietnam Reporter' in 2012 and 'UQ in Vietnam' last April to cover the Group of 20 Summit.
But instead of travelling abroad to gather stories for an Australian audience, these students will be reporting from Brisbane on the G20 events for two million students at a dozen universities around the world.
They are going to be producing two 30-minute news and current affairs television programs for The Global Campus Network. GCN is an initiative of Ryerson University in Toronto, Canada and includes partner institutions from Dublin to Denmark, and Hyderabad to Auckland. UQ's School of Journalism and Communication is the newest partner in the GCN and the G20 will be our first programming project.
GCN is run by students, for students. Rachel Krutow is co-executive producer of the network and a student at Ryerson University. "I am so pleased to have The University of Queensland on board as our new partners," she said.
"The Global Campus Network is about international collaboration in order to create a truly unique student voice, and our partners in Brisbane are a great addition to help achieve that goal.
"By covering the G20 summit, our Brisbane partners are able to open the Global Campus Network to an exciting opportunity to create quality content."
The two programs produced by UQ students in Brisbane will be broadcast live on GCN which can be viewed online. (See http://www.ryerson.ca/~gcntwk/ )
Those programs will be followed by a worldwide panel discussion by students, including some from UQ, about the way in which Gen Y typically approaches politics and international relations.
UQ's Evengelene Dickson will be a reporter for both programs. "Young people are interested in politics and global events but to get access and be actively involved is hard," she said.
"To be able to cover the G20 and address issues important to young people is really exciting.

"What's discussed at the G20 affects everyone so the fact that we're able to have access to a Global Campus Network is incredible because it allows for open discussion and information sharing from students everywhere."
Now that UQ is a partner in the Global Campus Network, there will be more opportunities to get involved in more programs with the goal of ultimately developing a students' CNN that can be seen on campuses around the world.