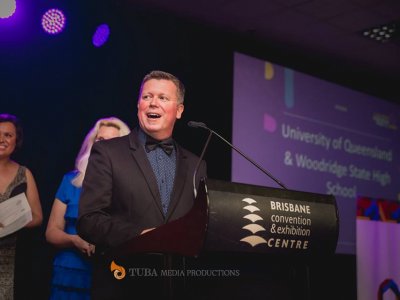 Ten journalism students from The University of Queensland have won the Communication and Media Achievement Award at the Queensland Multicultural Awards.
The students were recognised for Change Makers magazine, a project with Woodridge State High School which aimed to tell the real stories of the local community and debunk negative stereotypes.
Team leader, Dr Scott Downman from the School of Communication and Arts said the award was terrific recognition for the students and the UQ journalism program.
"Change Makers is an innovative project that combines cross-cultural reporting and the use of non-traditional newsgathering techniques. There is nothing else like it in Australia," said Dr Downman.
Six of the students visited Woodridge State High School over five months to document stories and create themagazine, which was launched in October 2014.
Another four students joined the project in 2015.
Team member Alicja Rudz said working on Change Makers was extremely rewarding.
"The first time we visited the school's English as a Second Language class, which includes refugees and asylum-seekers, we were greeted with such warmth and were amazed at how smart the students are," Ms Rudz said.
"We were happy to have our own pre-conceived ideas blown away."
"It was a privilege to hear and tell the stories of bright and motivated young students who achieve remarkable success despite challenging and often horrific experiences."
The Multicultural Awards were presented by Multicultural Affairs Minister Shannon Fentiman.
The Change Makers project also won Best Student Publication at the student journalism Ossie Awards and was a finalist in the 2014 Premier's Cultural Diversity Awards for Communications and Media.
Professor Tim Dunne, Executive Dean of the Faculty of Humanities and Social Sciences at UQ said the award was very well deserved.
"This award is testimony to the outstanding work being done by UQ journalism staff and students; the students have shown the importance of challenging conventional wisdom about how local communities see themselves and are seen by others," he said.
The Change Makers team: Dr Scott Downman (Team leader), Alynna Wong, Kemii Maguire, Jordan McMullen, Jade Horrobin, Rachel Westbury and Alicja Rudz, Max Rowley, Navin Regi, Sophie Volker and Courtney Lawler.
Media: Gillian Ievers, g.ievers@uq.edu.au, +617 3346 1633 or 0406 510668.
Original article posted: http://hass.uq.edu.au/article/2015/08/uq-journalism-reaps-rewards-of-creating-change