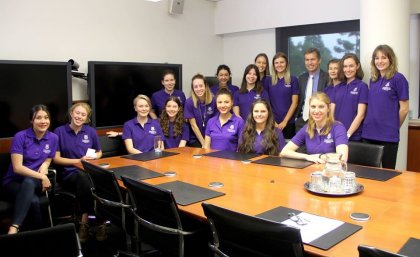 Aspiring foreign correspondents from The University of Queensland will head to New Delhi as part of a program that Vice-Chancellor Professor Peter Høj hopes will make UQ's School of Communication and Arts a top destination itself.
The journalism students met Professor Høj in preparation for their 10-day trip to India, funded by the Federal Government's New Colombo Plan.
Professor Høj said this global approach to learning bred success.
"At UQ we nurture top quality graduates who are equipped for a world where job prospects and graduate contributions are global and not confined to our local geographies,"
"I believe one of the most important qualities in a graduate is being able to understand different cultures and adjust to the environment you are in."
About a quarter of all UQ students undertake an international experience while at university.
"The world is no longer evolving around local issues alone as global issues take on increasing importance," he said.
"It is very important for our economy to be globally informed, because our living standards will only be sustained if we are a global player.
"I hope you will be able to see the world through a much clearer and broader lens after you've been to New Delhi.
Professor Høj said it was highly unlikely we would have had the 20 students going to New Delhi unless the New Colombo Plan had contributed this funding.
"I'm very pleased the government is investing $100 million over the next five years and I applaud the Foreign Minister for this initiative," he said. 
The trip is much more than a one-off adventure.
The UQ Reporter in India Project has received funding for another three years and will build upon annual trips to Vietnam which began in 2012. 
Students have formed links with the Lady Shri Ram College For Women, University of Delhi and Amity University in New Delhi and will work with local students to produce stories and foster connections between the two countries.
Working in India will give students the opportunity to adopt a self-directed and personalised learning approach.
The students leave Brisbane on 26 September and their stories can be found at the UQ JAC Digital website.
– Article contributed by UQ Journalism student Bridget Wood.
Media: Bruce Woolley, +61 7 3346 8256, b.woolley@uq.edu.au; UQ Communications,communications@uq.edu.au, +617 3365 1120.  
---
Originally posted: https://www.uq.edu.au/news/article/2015/09/destination-new-delhi