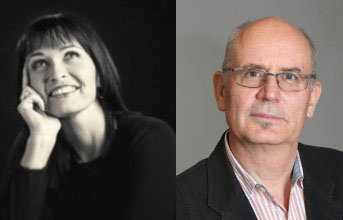 A collaborative research team led by UQ has been successful in securing federal funding through the Australian Research Council's Discovery program, for a project called "Genre Worlds: Australian Popular Fiction in the 21st Century".
One of only a few successful literature projects nationwide in this round, the team comprises Dr Kim Wilkins and Professor David Carter from School of Communication and Arts, as well as Dr Beth Driscoll from University of Melbourne, and Dr Lisa Fletcher from University of Tasmania.
"Popular fiction in Australia is strikingly understudied despite being the most significant growth area in Australian trade publishing since the turn of the century," said Dr Wilkins. "While its obvious economic importance may occasionally be referred to in literary commentary, we are interested also in the unique pleasures it provides, how communities form around different genres, and how genre competence—in writing and reading—are learned.
"As we said in our application, we want to lift the bonnet of a powerful machine— Australian popular fiction—and examine its complex interacting parts."
The project is centred around the "worlds" of popular fiction, that is the authors, their writing groups, agents, editors, and other individuals and groups who may influence the creation and production of the books. To this end, much of the research will be focussed on personal interviews. "Our mantra from the start has been 'read the books and talk to the people'," Dr Wilkins said. "We want to ask questions such as, 'what impact do deadlines have on the writing of novels?', 'how far do small presses, which often arise out of genre communities, act as research and development spaces for popular fiction?', and 'how can we unpack the term popular fiction and talk about not just the bestsellers, but the thriving midlist?'"
Wilkins, a highly successful author of popular fiction, is also a scholar in the field of fantasy fiction, while Dr Fletcher is an international academic expert on romance fiction. Professor Carter and Dr Driscoll will split the reading between them on crime fiction, and lead the work on print culture, trade practices, and international editions.
"This has always been conceived as a genuine knowledge-building project," said Wilkins. "Over the next three years, we will come to understand the processes and practices of popular fiction in Australia through exploring some of the stories behind the stories. We are going to have to read lots and lots of great books. There is no downside."
Photograph: Dr Beth Driscoll, Dr Lisa Fletcher & Dr Kim Wilkins