Film and television are two of the most complex and powerful cultural forms of the contemporary world. 
They allow us to express, explore, and experience profound emotions and ideas, and to inhabit different points of view. Combining technology, art, storytelling, perception, politics, industry, psychology, culture, and philosophy: film and television reflect, shape, and challenge our assumptions and desires. They are entangled in how we understand the world, society, and ourselves. Studying film and television then is crucial – it illuminates this entanglement.
Since 2013, the Valerie Joy Prize has recognised outstanding Film and Television students within the University of Queensland's (UQ) School of Communication and Arts (SCA) who have topped their graduating cohort. Established by UQ alum Valerie Joy (BA '63), the Prize reflects her ongoing desire to give something back to UQ.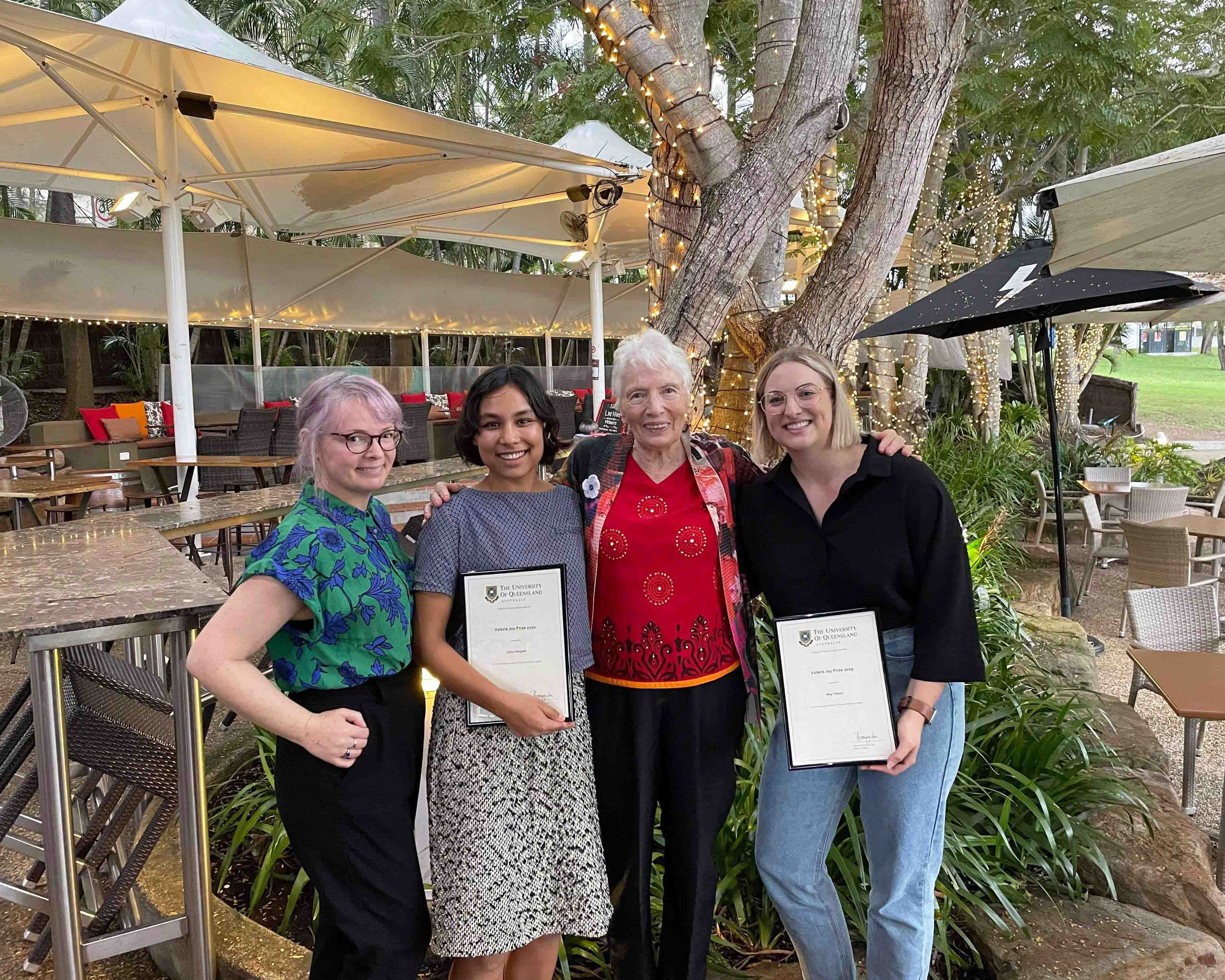 "At the time, I was a member of an international women's group called Lyceum, and following my retirement from paid employment, had been appointed convener of the Lyceum Cinema Circle," Valerie recalls.
"By creating this Prize, I have been fortunate to meet lots of fascinating young students and learn about the transformative power of film."
On behalf of the Film and Television Studies academic staff, Senior Lecturer, Dr Lisa Bode, feels incredibly grateful for the awareness Valerie's gift has brought to the discipline.
"It is wonderful to see our field given the recognition it deserves, and the prize money gives validation to our students in their choice of major, just before they go off to accomplish great things in the world with what they have learned," Dr Lisa Bode said.
"Just as important as the prize and the money in my view: they get to meet and have coffee with Valerie herself, learn about her incredible life and career, and come away inspired for the possibilities of their own futures."
---
Student Award Winners
The Prize, now a decade old, has supported a variety of students, all dedicated to the study of film in their own way. Diverse in their career pathways and ambitions, the recipient's journeys indicate that, in a saturated job market, critical thinking and creativity can set you apart.
Rosie Shaw – 2016 Recipient
Of her UQ experience, Rosie maintains that one of her fondest moments was meeting Valerie Joy at the Lyceum Club. Interested in film from a young age, Rosie found the experience incredibly validating.
"The discipline is often taken for granted, despite the impact it has on our day to day live," Rosie explains.
"Through an intimate and personal relationship with any show, you unpack a variety of lessons – subjective experiences, an understanding of culture through character's thoughts and actions, and how audiences are manipulated into thinking and feeling certain ways."
"The Valerie Joy Prize was a complete surprise, as I didn't even know UQ had something to recognise film and television students – it felt validating to be rewarded for hard work."
Following her studies, Rosie was fortunate to receive a graduate program position with the Queensland State Government, eventually settling in the housing space. She relays that her ability to connect and help people throughout her day-to-day work comes from her arts background. In particular, Rosie notes, a film and television major is a great way to differentiate yourself, as critical thinking is going to enhance any job.
---
Sonya Mamonova – 2017 Recipient 
The 2017 recipient, Sonya, has always been drawn to film and media, and its ability to understand our surrounding world.
"With the rise of YouTube videos, we are surrounded by fake news. Knowing how videos and film work, saves you time analysing and interpreting information, particularly because a lot of reporting is based exclusively on emotions rather than factual information," says Sonya.
Receiving the Prize for Sonya was a reminder of how special film is. Since graduating and working in a variety of roles overseas – teaching, as a writer for museum exhibitions and as a translator – she constantly draws on her film studies.
"Film really teaches you how to combine different disciplines, tell stories and produce content – this has been invaluable throughout my career," Sonya reflects.
---
Olivia Ustariz – 2018 Recipient 
Like others, Olivia loved appreciating the context of film studies. While working for UQ's Faculty of Science, her film studies boosted her desire to eventually become a copywriter for an environmental sustainability group. 
"Prizes like Valerie Joy boosted my career and creativity of what is possible," she says.
"Film and television is largely interdisciplinary – with socially profound films informing everything."
Ultimately, Olivia explains, "the discipline fosters a lot of respect and appreciation for individuals from various backgrounds and ideas."
"By creatively interpreting these films, and the ideas they are alluding to, we as individuals feel empowered to consider the greatest social issues of our time," Oliva believes.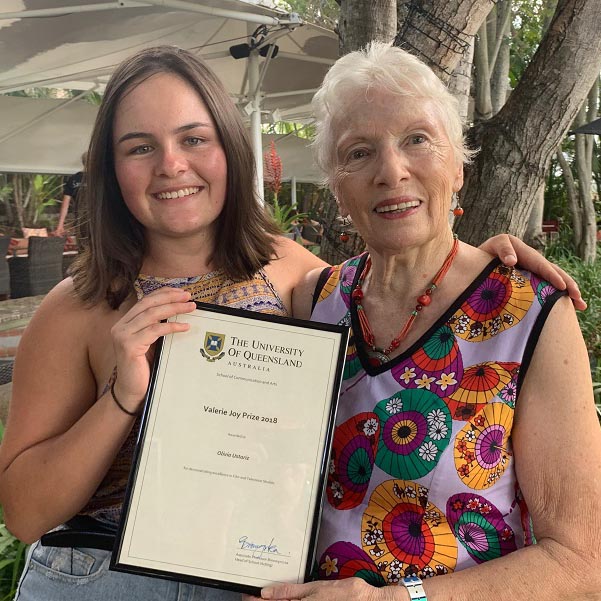 ---
Meg Thomas – 2019 Recipient 
Exposed to film theory from a young age, Meg was surprised to learn how broad the study of film and television could be. This turning point came when she was offered a research assistant position with leading cultural and media scholar, Professor Tom O'Regan, who sadly passed away in 2020.
"Before working with Tom, I always thought about film in terms of its relationship with critical theory.
"Tom broadened my perspective, imparting how film influences our daily lives through history, technology and culture," Meg explains.
Currently a PhD candidate in Film and Television studies at UQ, the Valerie Joy Prize reassured her that this was the right career pathway.
"There is a lot of anxiety around whether there will be an opportunity for me to become an academic, as I am constantly doubting my career path."
However, upon teaching her first tutorial for the semester, Meg notes, "in an era where things are changing so rapidly, getting people and students to think critically about media industries is so important.
"At UQ specifically, relationships with teaching staff in the school has been so valuable in shaping my own intellectual identity; everyone is so generous with their time, energy and knowledge. That has played a big part in me wanting to follow that path," Meg says of her desire to become an academic.
As she awaits to hear the outcome of her PhD application, she feels grateful for the aspirational belief and recognition that the Valerie Joy Prize imparted on her.
---
Study Film and Television at UQ
Want to be eligible for the Valerie Joy Prize? Film and Television studies is offered as a major in the Bachelor of Arts. Here, our academic staff will introduce you to the language and analysis of screen media in a variety of different contexts: Hollywood texts, Australian screen media, and films from a range of national cinemas.
As a graduate, you will be equipped with academic writing, research, critique and analysis. As evidenced through the stories above, studying Film and Television opens endless possibilities. Graduate opportunities include careers in media, content creation, film distribution, education and marketing.
Study Film and Television Studies