One of Australia's leading poets talks about how poetry has shaped her life, and winning the 2023 Stella Prize.
Many of us have a story about 'that teacher' – an educator or mentor who took the time to share their passion with us at a formative age, or noticed our potential, and thus changed who we would go on to become.
For Professor Sarah Holland-Batt (BA(Hons) '05, MPhil '08, PhD '19), one of Australia's leading poets, the fortuitous influence of one high-school English teacher in Denver, Colorado – where her family lived for a time – set her on a path towards a literary life she might never have otherwise imagined.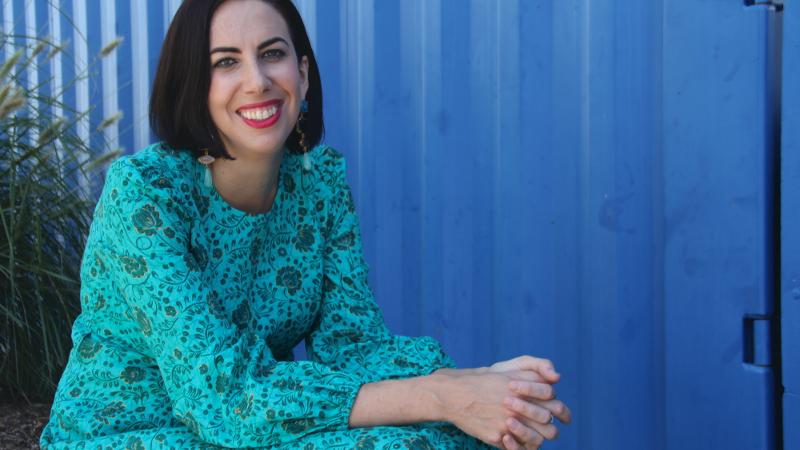 "I was in high school in Denver when I first encountered poetry. At that point in my life, I wanted to become a classical pianist – I was obsessed with music and planned to study music at university," she said.

"I was really lucky – I had one terrific English teacher, he was incredible. He had done a master's degree, quite conveniently, on TS Eliot's 'The Waste Land'. And he was a great lover of poetry."

Contrary to popular wisdom, rather than starting his students on the more accessible odes, this teacher gave the young Professor Holland-Batt and her classmates "the really challenging stuff" to read, including 'The Waste Land' itself – a notoriously esoteric piece.

"As a teenager, I just remember thinking, 'Oh my God, I've never seen language used in this way before'. It read to me like some of my favourite lyricists from the bands that I loved. I just thought it was so incredibly profound and mysterious."

From there, armed with recommendations from her teacher, she began to haunt the well-stocked poetry sections of Denver's bookstores, falling in love with the world of poetry – a love affair that continues today, much to the benefit of Australia's reading public.

Professor Holland-Batt is now a multi-award-winning poet, editor and critic, and member of Queensland University of Technology's Creative Writing faculty. She has published 3 collections of poetry with University of Queensland Press (UQP): Aria (2008), The Hazards (2015) and The Jaguar (2022).

To date, accolades she's received include the Judith Wright Poetry Prize, the 2016 Prime Minister's Literary Award for Poetry, a Sidney Myer Creative Fellowship and the WG Walker Memorial Fulbright Scholarship, among a raft of other honours.

"Without doubt, after 3 acclaimed poetry collections, Sarah is a key figure in contemporary Australian poetry, one whose style influences and inspires many new and emerging poets in Australia," UQP Publisher Aviva Tuffield said.
In 2021, Professor Holland-Batt also published Fishing for Lightning: The Spark of Poetry through UQP, a collection of 50 short pieces of poetry criticism written during her celebrated stint as literary columnist for The Weekend Australian.

This posting gave Professor Holland-Batt a national platform for showcasing the rich landscape of Australian poetry, but was also a unique vantage point from which to observe our somewhat strained relationship with poetry as a nation.

She would occasionally receive feedback from readers who found the experience of engaging with poetry through her columns frustrating – sentiments that sometimes seemed to boil down to a simple and stubborn 'I don't get it'.
"The first bit of advice I gave to those people was to just accept that a poem is a mysterious item, it doesn't have a singular reading. It's not a maths puzzle, it's not a physics equation. There's no answer. It's okay to appreciate the mystery in a poem."

Equally, though, her engagement with readers of the column reinforced her passion for helping people to connect with poetry, in that it demonstrated the breadth of interpretation possible when poems are shared and read widely by people with a diverse range of perspectives.

"[When] writing the column, I'd get great emails from people who were giving me their own interpretations of those poems," she said.

"People would point out things that I hadn't noticed, despite spending quite a while with that book or poem and writing about it."

"Poetry is all about being an active reader, contributing something, and finding your own path. Everyone finds something different in a poem."
In her most recent collection, The Jaguar, Professor Holland-Batt's poetry sets a course through perhaps the most challenging terrain she's ever faced. The poems in the book draw on her experience witnessing the final stages of her father's life as he suffered from Parkinson's disease while residing in an aged care facility, where one of his carers was accused of abusing him.

It was a harrowing experience that led to Professor Holland-Batt becoming a public advocate for urgent reform in the aged care sector, including giving heartfelt testimony about her father's experience to the Royal Commission into Aged Care Quality and Safety, tabled in 2021.

For Professor Holland-Batt, writing the collection exemplified the unique mechanism of poetry that transforms experience into art, and provides solace and perspective in the process – a therapeutic photosynthesis of life into words.

"I write poetry because it pushes me to find language for experience, and yet it also offers artistic and imaginative distance from the events of my life," she said.

"Once experience is transfigured into poetry, it has become something else entirely: a linguistic artefact, a musical and visual composition, a work of art."

"So, while the poems draw on my experiences of my father's Parkinson's and his last years and days, they are not a factual record of them, but rather acts of imagining, of shaping that experience into language and – in some instances – conceiving alternate ways of thinking about his death and dying."

As demonstrated in the collection's opening poem, 'My Father as a Giant Koi', Professor Holland-Batt has been able to convert a tragic and trying experience into exquisite reflections on mortality and the human experience: 'My father is at the bottom of a pond / perfecting the art of the circle.'

The poem later continues: 'He has been down there for years— / ancient god of the dark, keeper of the single / koan, moving in currents only he can sense, / fluent as a windsock.'

"These are superb, highly observational and moving lyric poems, perfectly suited to her metaphorical style," Tuffield said.

"Her imagery throughout The Jaguar is startling, forcing the reader to reconsider certain relationships, emotions, and the world we live in anew."
The response to this collection has been extraordinary – most notably, winning the 2023 Stella Prize. The Stella is one of the nation's most prestigious literary awards, highlighting the work of women and non-binary writers and championing a more diverse cultural landscape for Australia.

The significance of this recognition is not lost on Professor Holland-Batt.

"I am in awe at how the Stella Prize has shifted the conversation about the books we value in Australian literature over 11 short years since its founding, so it's an honour to be recognised by an award that has done so much to shift the reception of women's writing across genres and forms," she said.

"One of the Stella's most important contributions to Australian literary culture is the way it has signalled that books don't exist in isolation, but rather in conversation with one another. The Stella actively celebrates writers on the longlist and shortlist each year, drawing attention to a constellation of books, which is a spirit of generosity and community that resonates deeply with me."

So, what will be Professor Holland-Batt's next contribution to this beautifully described literary cosmos? In a Contact exclusive, the team at UQP has given us the opportunity to share details of Professor Holland-Batt's next book – and it isn't a collection of poetry.

"We are privileged to have acquired her next work, a work of memoir, which will explore in prose form the strange and unsettling narrative of her father's experiences with Parkinson's disease," said Tuffield.
"We cannot wait to publish Sarah's next book."

It's sure to be another remarkable read. In the meantime, The Jaguar is available for purchase now through UQP.