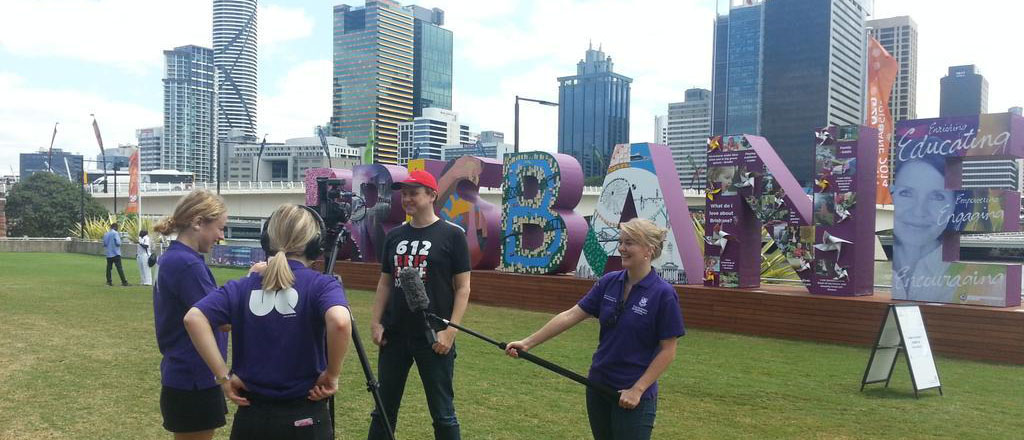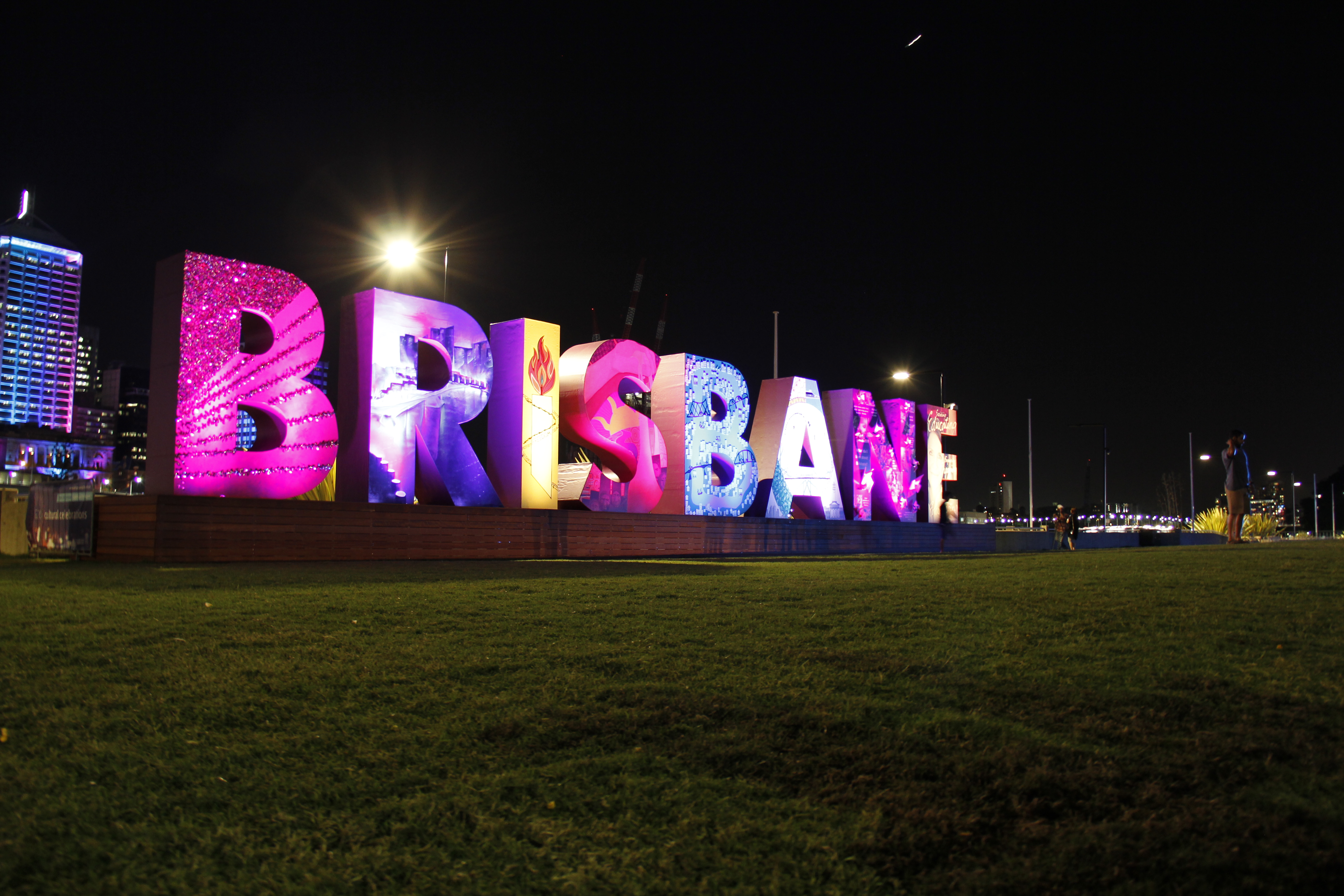 Article by Andrew Thorpe
The G20 has come and gone, but for a group of UQ students in journalism and communication, it was the experience of a lifetime.
Over the course of two and a half weeks, nine students underwent intensive training in video production and editing, news reading, G20 history and riot safety, before gaining access to the International Media Centre at the heart of the action in South Bank.
The students then produced two half hour television programs (viewable here and here) to air on the Global Campus Network, an international network of university television stations with a global audience of more than two million.
In addition to these programs, the students contributed stories regularly to their own website, as well as taking part in a panel discussion with students from Ryerson University in Toronto, and making extensive appearances in other media outlets.
UQ G20 reporter and Bachelor of Communication student Bo Daly deemed the project a success.
"The whole experience was the best thing I've done so far at uni."
The project operated under a framework known as Work Integrated Learning, with students operating in an intensive, immersive and intercultural workplace-like environment, all while under the guidance of professionals.
Former Landline executive producer Peter Lewis was brought in to produce the programs.
It was the fifth such project undertaken by the School of Journalism and Communication, with previous projects having consisted of trips to Vietnam in 2012 and April this year, covering the International Indigenous Health and Knowledge Conference in 2012, and covering the International Olympiad in Informatics in 2013.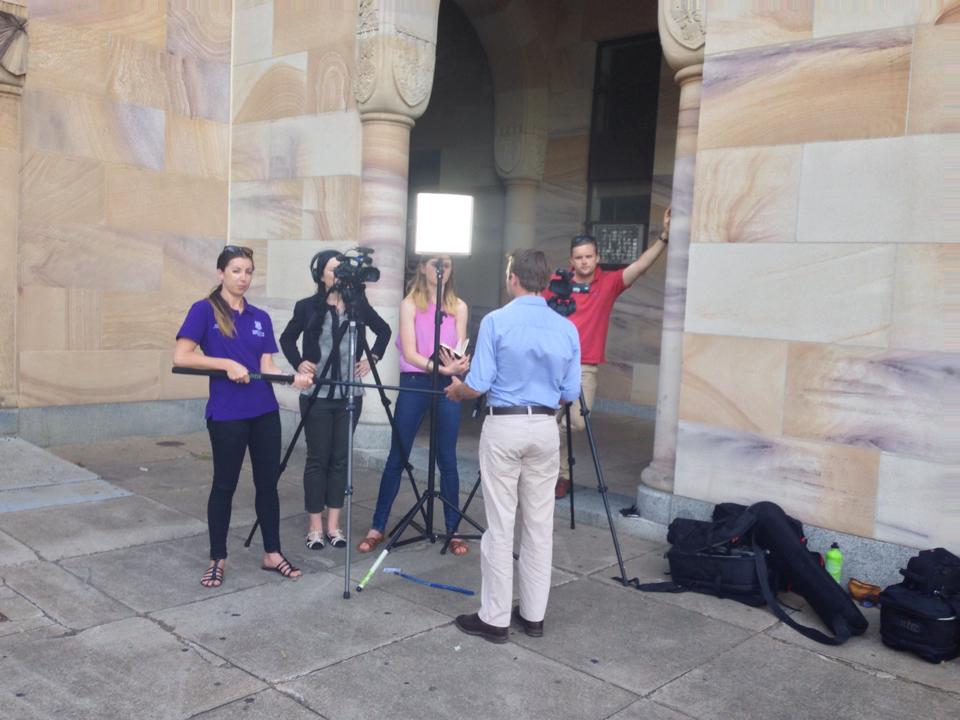 Students interviewing LNP Federal MP, Wyatt Roy at St Lucia.
Program coordinator and Lecturer Bruce Woolley, who arranged the students' access to the International Media Centre, spoke highly of the benefits of Work Integrated Learning.
"These courses are a success because they accelerate the rate at which students learn the technical and editorial skills required, as well as their knowledge base of the subject. But also because they 'reflect in action' as they do their reporting. In my mind there's no better way to learn about journalism and communication."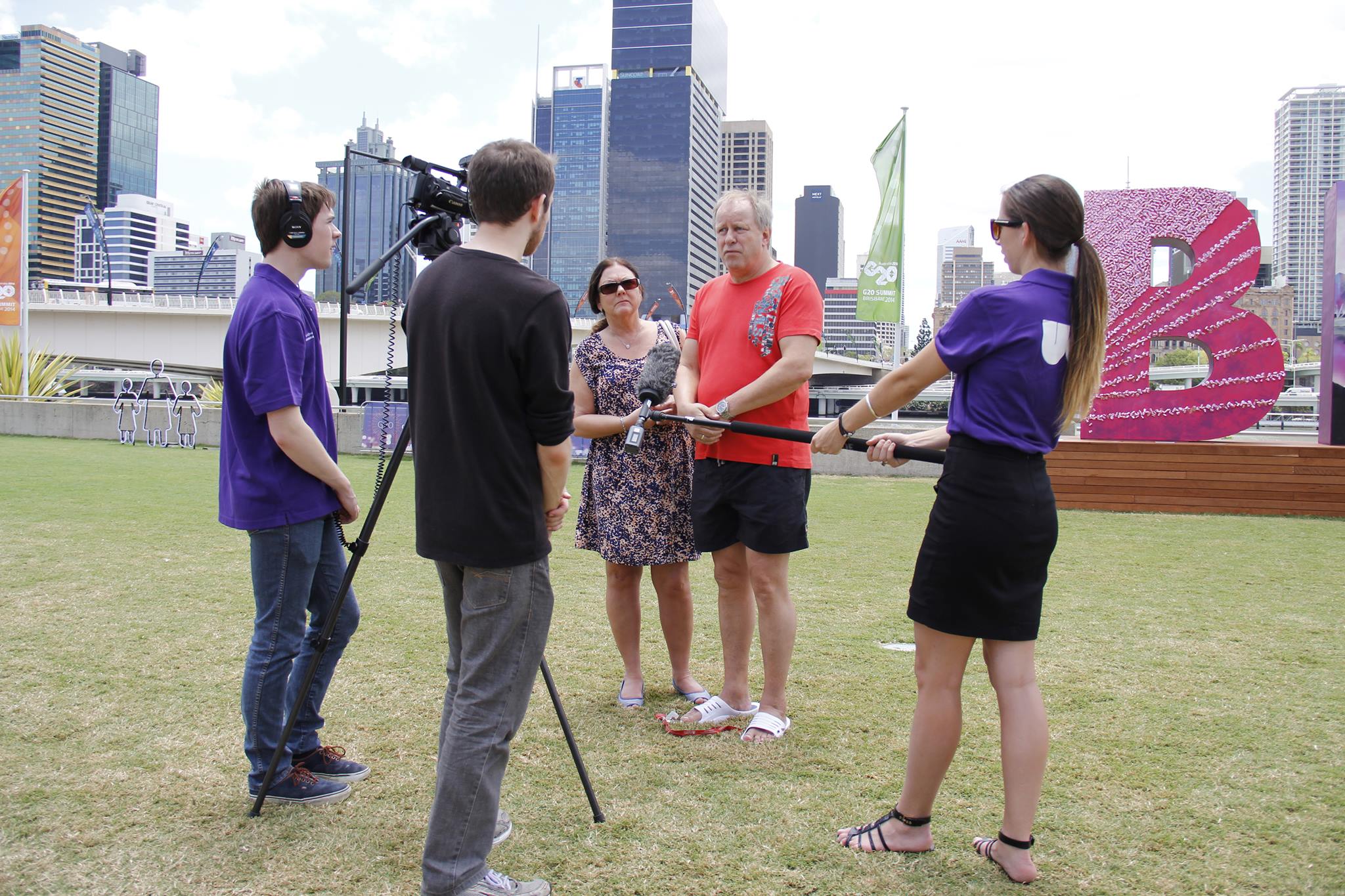 The project was made more challenging by the fact that midway through the final week it was announced that United States President Barack Obama would be coming to the University of Queensland's St Lucia campus to deliver a speech to students.
While this meant the relocation of the entire operation to a different building across campus due to the Journalism and Communication studios being locked down by the Secret Service, it was nevertheless a great opportunity for students to cover an official Presidential visit.
Bachelor of Journalism/Bachelor of Communication student Aimee Hourigan cited covering the President's speech as a personal highlight of her G20 experience.
"Reporting on President Obama's speech was definitely what stood out for me - not just because I was in the same room as one of the most powerful people in the world, but because I was among a select few media organisations and personnel who were actually allowed to report on the event!"
Throughout the course of their G20 coverage, all work produced by the students was made available to the media via creative commons licensing, which resulted in stories being picked up by The Sunshine Coast Daily and other outlets.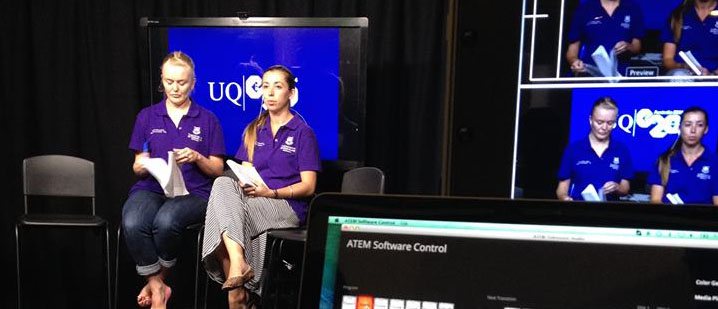 In addition to this, there was a large amount of media interest in the project itself, with UQ at G20 reporters making appearances on Sunrise, ABC News 24, Triple J, Channel 7 News, Channel 9 News and ABC 612, as well as in The Australian and the Courier Mail, just to name a few.
"The media appearances were exciting, nerve-racking too of course… I learnt that part of being a journalist is thinking on your feet and improvising, and it was a huge help to be able to see professionals using those skills in the field," said Bachelor of Journalism/Bachelor of Arts student
Evangelene Dickson.
This was the first project in which the University of Queensland has worked with the Global Campus Network, but UQ has since been made a full partner and will produce programs for the network several times a year.
Bruce Woolley was thankful to all involved in bringing this project to life. "We thank the G20 organisers, the students who worked so very hard, the sessional and professional staff who gave up their long weekend and many other days to make this happen, and to UQ for giving us the opportunity to mount such a wonderful project.