Congratulations 
To UQ Master of Philosophy student Phoebe King who was awarded the 2020 Alfred Midgley Postgraduate Scholarship.  
The scholarship was established in 2010 by a bequest from the estate of Zoe Ann Burnett, in memory of her grandfather the late Dr Alfred Midgley and is valued at $6000 per anunum over the life of the degree.
The purpose of the scholarship is to support a postgraduate student engaged in research in the field of Australian literature.
Dr Alfred Midgley contributed to many aspects of early Queensland life. He was a member of the ninth Queensland parliament, an early published Queensland poet, and a minister in the Methodist Church.
Zoe Ann Burnett graduated in Arts from The University of Queensland in 1948 and was awarded a Masters of Literary Studies in 1989. 
---
Phoebe's UQ Journey
I graduated with a Bachelors of Communication/Arts, with Majors in English Literature and Writing in 2017, and went on to complete my Honours in English Literature in 2018. During my time in undergraduate, I enjoyed taking part in the HASS peer mentoring program and completed a Winter Research Scholarship in 2017. I also had the opportunity to work as a research assistant for Emeritus Professor Gillian Whitlock and received the University Medal in 2018.
My MPhil project investigates the Australian reception of Behrouz Boochani's autobiographical novel, No Friend but the Mountains (2018), mapping the various ways that it has travelled through reading publics. I place No Friend within adjacent literary genres to develop a method for reading this unique text while also examining what No Friend signals for the future of life writing by asylum seekers and refugees.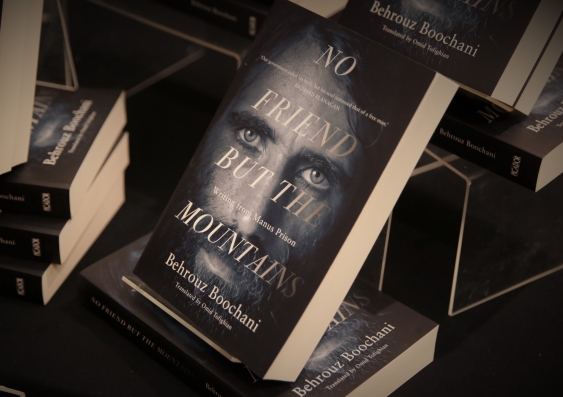 In 2013, Kurdish journalist Behrouz Boochani was illegally detained on Manus Island. He has been there ever since. People would run to the mountains to escape the warplanes and found asylum within their chestnut forests...This book is the result. Laboriously tapped out on a mobile phone and translated from the Farsi. It is a voice of witness, an act of survival. A lyric first-hand account. A cry of resistance. A vivid portrait through five years of incarceration and exile. Do Kurds have any friends other than the mountains?
---
Future Pursuits
I'm very grateful to receive the Alfred Midgley Postgraduate Scholarship as this project has allowed me to further explore my interests in life writing and refugee narratives while navigating the dynamic landscape of Australian literature and literary institutions.
After Masters, I hope to pursue a PhD that allows me to further my research into life writing and book history.
The School wishes Phoebe all the very best with her future studies!