Congratulations 
To UQ Bachelor of Arts student (and practising audiologist) Nuala Beahan who was awarded the Ford Memorial Prize for her poem – Beckett's Walk. This poetry prize was founded in 1916 by a gift from the Queensland United Licensed Victuallers' Association in memory of Lieutenant S.K. Ford and Corporal T.W. Ford. To celebrate her achievement, the School caught up with Nuala to discuss the inspiration behind her poetry and her experience at UQ. 
---
The UQ Experience
This is my third time being a student at UQ. It does feel a little bit like a second home. I did a coursework Masters degree in clinical Audiology here fulltime in the 90s. The clinical placements that UQ arranged for me as part of the degree were lucky enough to lead to immediate employment. I knew I wanted to do more study though and came back a year later to start a research degree in Audiology part-time while I continued working as a clinician. UQ has not only set me up in a great career, but also supported me to complete a research degree and travel internationally to present my work. Now I'm back at UQ for a third time to pursue a creative interest – writing.
Finding inspiration
I hadn't anticipated liking writing poetry as much as I did. I have always thought poetry was fantastic, but I didn't imagine myself as a poet. On the day before I submitted my first poem for class feedback last semester I had a panic attack of self-doubt. But once you surrender and take a chance you learn a lot about yourself you didn't know.
The poems that I write capture curious moments in life. The moments that catch your attention but go unmentioned. I work in hospitals and also volunteer with the SES and I see a lot of things that make me think.
The poem I was lucky enough to win the Ford Memorial Prize for was an ekphrastic poem – a poem about a work of art. I chose the work of my favourite Australian artist – Clarice Beckett. I took painting classes for a few years when I needed an outlet from my research degree. I had the most wonderful painting teacher Paul Milburn – and Clarice was one of his favourites. Her vision of Australian landscapes and street scenes is hauntingly beautiful and her personal story of being discouraged and ignored during her lifetime would break anyone's heart. The painting "Taxi Rank" appealed to me because it captures a city street on a rainy night. The mood is exquisite. I was fortunate to be able to workshop the poem in my tutorial for WRIT2100 and received lots of feedback from my tutor Madeleine Dale and the other fabulous writing students in my class. 
Advice for students
I think the best advice I ever got was to have regular meetings. Maybe they're formal meetings with an advisor, maybe it's a study group with friends, a writing group with classmates, or committing to attend all your tutorials well prepared. The regularity of some type of meeting pulls you forward as a student and helps you tick things off your to-do list. It's too easy to get off track if you're out there on your own.
---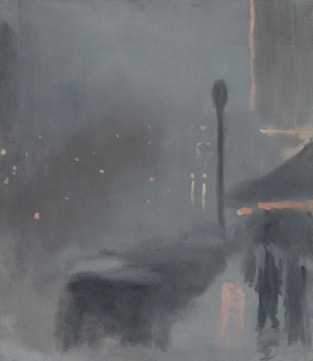 Beckett's Walk
by Nuala Beahan
Tonight the town is Payne's and black.
Water falls from silent heights.
Headlights float on rain-soaked roads,
Liquid steel, incandescent peach.
A shivering streetlamp watches
shoppers scurry under awnings.
Taxis wait like broad black beetles,
like patient mothers,
like boats upon the tides of home.
---
Future pursuits
I'm going to continue with the Writing Major courses as well as writing study groups and working on my own projects. I'm enjoying being an undergrad again and having freedom to choose from a wide variety of subjects. I thrive when I can section off part of my time to be creative and I think more people should do it. I feel like we can all be many things.
The School looks forward to watching Nuala continue her creative journey and can't wait to see what project she sets her mind to next!