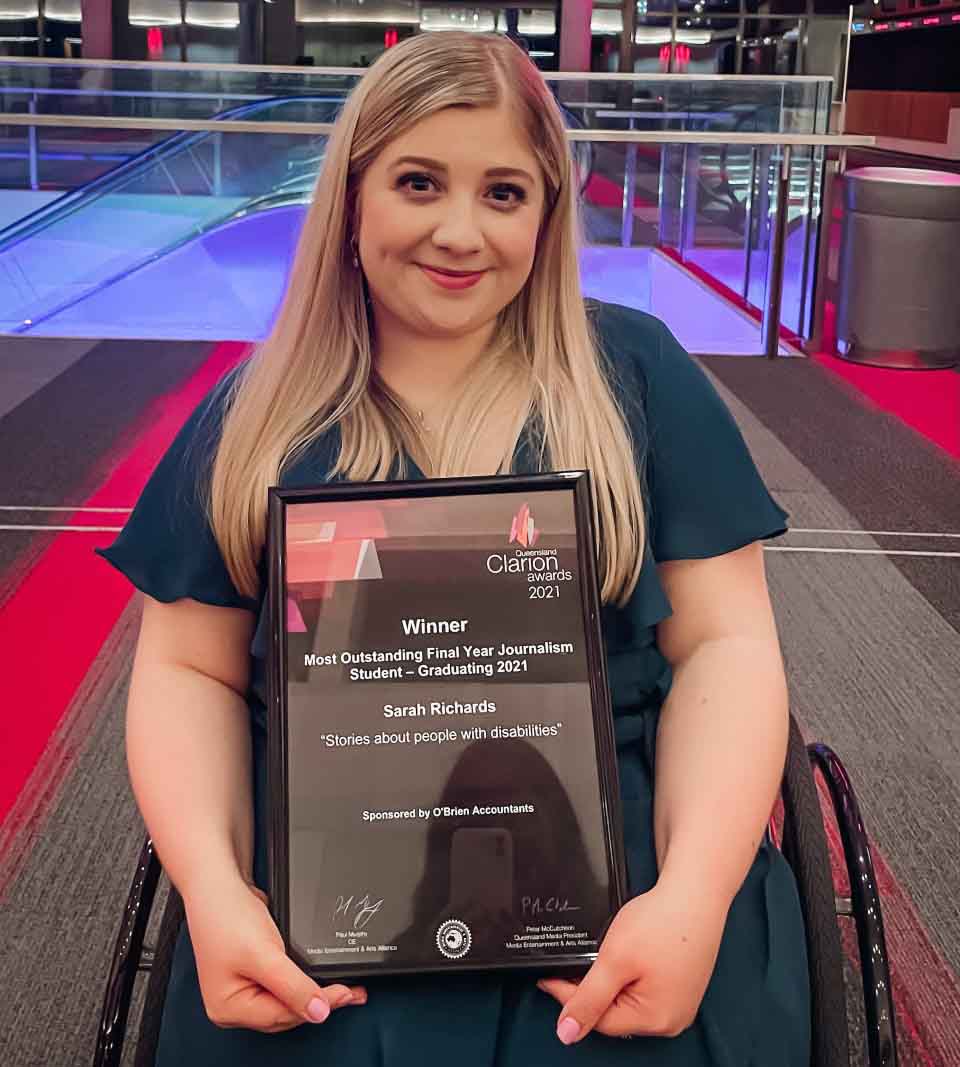 For the second year in a row, UQ journalism students have shown they have what it takes to make an impact in the industry.
Congratulations to Queensland Clarion Award winners: Sarah Richards (2021 Most Outstanding Final Year Journalism Student) and Elise Williams (2021 Young Journalist Award). 
The Queensland Clarion Awards are the pre-eminent state-based awards promoting excellence in the media. The annual awards celebrate quality journalism and reward a media professional whose commitment to excellence in media coverage best informs Queenslanders.
2021 marks 100 years since The University of Queensland (UQ) first began teaching journalism. The first program of its kind in Australia, UQ journalism has produced outstanding graduates who have helped to shape the national media landscape. These recent successes highlight the strength of the current UQ journalism program and its dedicated teaching team. 
To celebrate this remarkable achievement, the School caught up with one of the winners – Sarah Richards, to discuss her experience in the program and what's next after graduation. 
---
Firstly, congratulations Sarah! What was your reaction to hearing that you had just won the Most Outstanding Final Year Journalism Student Award at the QLD Clarion Awards?  
I felt a bit overwhelmed. When I was heading to the stage to accept the award, I thought back to when I was in my first year and how far I had come. I never would've thought I would receive an award like this in my final year. 
 What originally made you want to be a journalist? 
I was a little unsure what I wanted to do after high school but after attending a careers fair and reading about all the different degrees, journalism just stood out to me. And the more I read about what journalists do, the more I wanted to be a part of that world too. I was also a little frustrated with the lack of representation of people with disabilities in the media. So, I entered journalism with a mission to change how people with disabilities are represented and give a platform to those who do not have a voice. 
Tell us about your work on stories about people with disabilities.
For the Clarion Awards, I submitted two stories about people with disabilities. The first story I wrote was for ABC Education about my own experience in the education system as someone with a disability. I felt very labelled and judged for my disability, especially in primary school, and I wanted to write a piece to show that children with disabilities have great potential too. My second story was about women with disabilities and their experiences with harassment on online dating. One of the professors I interviewed in the piece was inspired to extend their research to involve people with disabilities. It made me happy to see my work had impact. That's all a journalist wants. 
How did UQ journalism prepare you for the industry, and do you have any standout moments from your time in the program?
I am very grateful for the education I have received at UQ. The journalism program really provided me with the foundations to prepare me for the industry. My courses made me feel challenged to seek stories that are not commonly reported on in mainstream media. 
What advice do you have for future students considering studying a journalism program? 
My advice for future students is to take every opportunity, even if you might get rejected. Take everything as a great learning experience. The first story I pitched to the ABC got rejected, but a few weeks later, another department at the ABC messaged me saying they were interested in the story. And that was one of the stories that helped me win a Clarion. 
Tell us what's next after graduation! 
I will be working at the ABC with their online national news team. From my internship and freelance work with the ABC, I was fortunate to be offered a position with the national news team, and once I have finished all university assignments, I will be extending my hours in their newsroom.