The show must go on
Everything old is new again. At least, that's the plan for the Avalon Theatre on Sir Fred Schonell Drive, just 2 blocks from UQ St Lucia. 
Acquired by The University of Queensland in 1963, the Avalon Theatre quickly became a thriving hub for both drama performances and cultural activity. However, when the Schonell Theatre opened in 1970, it found a new purpose as a teaching space for undergraduate courses until its closure in 2004.
But this century-old art deco building will soon be refurbished to reclaim its rightful place in UQ's and St Lucia's cultural heritage.
This landmark theatre is currently being restored to provide a unique, fully functioning teaching and performance venue for use by the University, as well as the local community, in the years to come.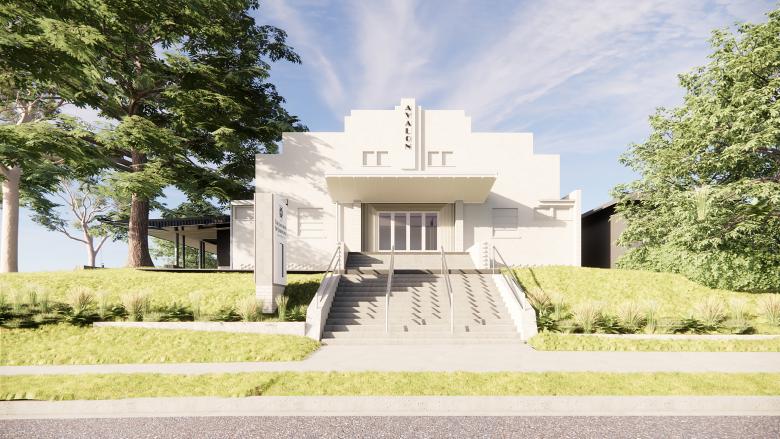 Avalon vision
Once restored – expected completion date late 2023 – the former St Lucia 'Show Hall' will be a fit-for-purpose theatre with modern amenities and technology, capable of hosting a range of productions in 2 performance spaces: one with up to 112 seats and the other a smaller space with up to 50 seats.
A lighting and sound control room, theatre amenities, office space and backstage area – including dressing rooms, shower facilities, and storage for wardrobe, props, sets and lighting – will also feature. Full lighting rigs, along with tiered retractable and adjustable seating for flexible use, will be installed in the highly soundproofed performance spaces.
Certainly a far cry from the thunderboxes, limited storage and no change-rooms of the University's original 1963 building acquisition.
Brisbane-based heritage architect Andrew Ladlay has been commissioned to provide conservation and restoration advice on the project, and UQ will ensure that all works are conducted in line with Brisbane City Council.
According to UQ Chief Property Officer Fabby Ernesta, "By restoring the Avalon Theatre we can create an asset not only for our drama students and UQU clubs and societies, but also a hub for local community groups and residents to use in the future."
The University is committed to supporting and giving back to the community and will consult with locals to understand how best to use the theatre.s' drama program.