Vanguard Theatre Festival
24 October 2018 7:30pm
–
26 October 2018 11:00pm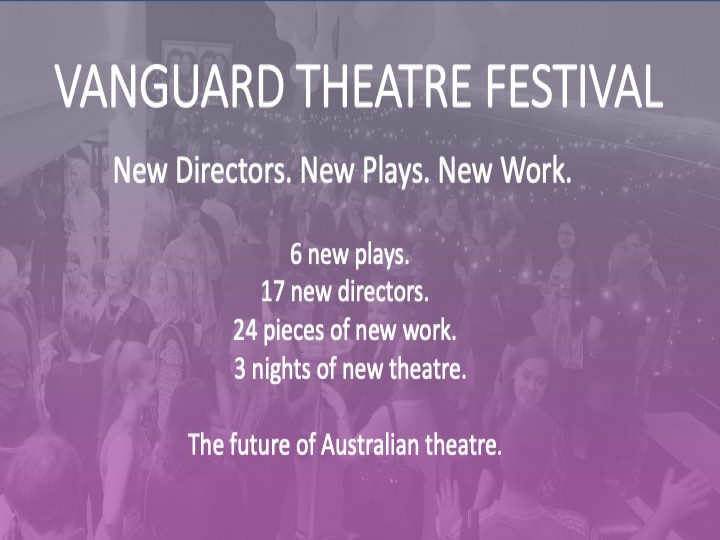 Venue:
Geoffrey Rush Drama Studio
Under the Schonell Theatre (Building# 22)
Entrance opposite the Synthetic Sports Fields
St Lucia Campus, The University of Queensland
Transport:
Buses: there are two main bus hubs on the UQ St Lucia Campus - UQ Lakes, and UQ Chancellor's Place.  If you are staying near St Lucia, you will arrive via Chancellor's Place on the 402, 411 or 412 bus.
Ferry: there is a ferry stop on the UQ St Lucia campus.
Train: the closest train station is Toowong; you will need to catch an additional taxi or a bus in order get to St Lucia campus.
Details for these options can be found via the Translink Website: http://translink.com.au/
Taxi: if catching a taxi, inform the driver to take you drop you off on Campbell Road which follows on from Sir Fred Schonell Drive.

---
About Research Seminar and Workshop Series
---
School of Communication and Arts Research Seminar Series
The research seminar and workshop series occur each semester, each with a different topic and guest speaker from UQ or otherwise.
Friday, 4 August
12-1pm

Hybrid: Online via Zoom and in person at the
SCA Writer's Studio
(Level 6, Michie)

After the Future: Heat, Collapse, and Exhausting the "Future of Work"

Dr Luke Munn

Friday, 25 August
12-1pm

Hybrid: Online via Zoom and in person at the
SCA Writer's Studio
(Level 6, Michie)

Promoting children's environmental responsibility in the EFL classroom
Dr Valentina Adami

Friday, 1 September
12-1pm

Hybrid: Online via Zoom and in person at the
SCA Writer's Studio
(Level 6, Michie)

Write FOR your reader vs. writing WITH your reader: human-centred design in professional communication

Portraying Asian-diasporic identity beyond the limits of the literary label Asian-Australian

Catriona Arthy

and

Olivia De Zilva

Friday, 8 September
12-1pm

Hybrid: Online via Zoom and in person at the
SCA Writer's Studio
(Level 6, Michie)

Exploring Digital Humanities through the Lens of Journalism: A Case Study of Reader Comment Analysis

Dr Lujain Shafeeq

Friday, 15 September
12-1pm

Hybrid: Online via Zoom and in person at the
SCA Writer's Studio
(Level 6, Michie)

The Medicalised Body - On Illness, Humour, and Sexuality

Talkin' about the thing that stops me writing about the thing I'm talkin' about: Hacking and Hofstadter on the looping effect of diagnostic labels and writing the strange double

Carly-Jay Metcalfe and Bianca Millroy

Friday, 22 September
12-1pm

Hybrid: Online via Zoom and in person at the
SCA Writer's Studio
(Level 6, Michie)

Coping with eco-anxiety: A guided journal trial

Dr Ans Vercammen and Dr Skye Doherty
Venue
Under the Schonell Theatre (Building# 22)
Entrance opposite the Synthetic Sports Fields
Room:
Geoffrey Rush Drama Studio