Research Seminar - Imagining the End of the World: Writing the Apocalypse before COVID-19
5 June 2020

12:00pm

–

1:00pm
Imagining the End of the World: Writing the Apocalypse before COVID-19

Presented by: Dr Helen Marshall
Date: Friday 5 June 2020

Time: 12–1pm

Location: Online via Zoom
---
Abstract
What can the Middle Ages teach us about acknowledging the fragility of our own lives in a time of great uncertainty? And how can creative practice help us translate those understandings?
In this talk, I will discuss the origins of my debut novel The Migration (Random House Canada/New South Books) in medieval poems written during the time of the Black Death. One such poem of interest is The Prick of Conscience (1350), a poetic treatise produced in surprisingly high numbers in England which uses memorable fragments of suffering and monstrosity to encourage penitence. Scholars such as Howell Chickering have argued that the Conscience poet aimed only to shock his audience into empty fear, or timor vanus, but an understanding of the text's operations on purely theological grounds does not fully account for the particular pleasures of the poet's narrative tactics.
I will examine the meditational and mnemonic tradition which shaped the genre and operations of The Prick of Conscience, a tradition which encouraged readers to reflect on images of violence such as Christ's death upon the cross, and then to channel their fabricated horror into spiritually salutary processes. I will then explore how the poem informed the arc of The Migration and its exploration of apocalyptic writing. Blending supernatural, mythical, and scientific writing,The Migration draws imaginative links between the crises of the fourteenth century and a near-future world threatened by a strange, new disease that affects only young people. Like The Prick of Conscience it was intended to explore how the contemplation of death and effects might lead toward a kind of ecstatic grace, and with it the willingness to embrace a new way of being.  
---
Presenter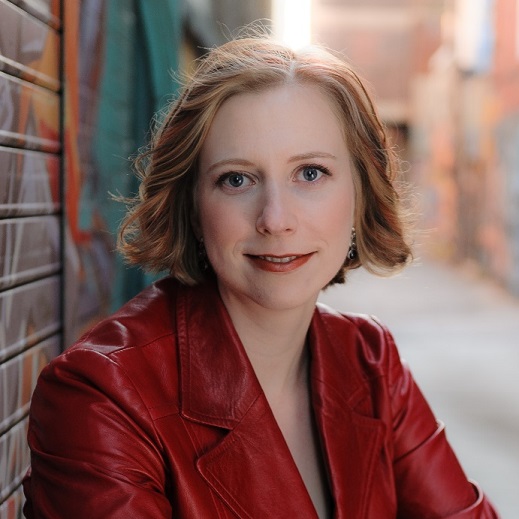 Dr Helen Marshall is a Senior Lecturer of Creative Writing at the School of Communication and Arts.  She has won the World Fantasy Award, the British Fantasy Award and the Shirley Jackson Award for her two collections of short stories. Her debut novel The Migration released last year argued for the need to remain hopeful, even in the worst circumstances. It was one of The Guardian's top science fiction books of the year and was recently optioned by Clerkenwell Films.
Her research as both as a creative practitioner and a scholar emerges out of the recent interest in "weird" fiction, a sub-genre of fantasy which blends supernatural, mythical, and scientific writing. Using modern theories of cognition, her work posits weird texts as "emotion machine[s]" (Tan 1996) designed to defamiliarize traumatic experiences so they can be more easily managed.
---
About Research Seminar and Workshop Series
---
School of Communication and Arts Research Seminar Series
The research seminar and workshop series occur each semester, each with a different topic and guest speaker from UQ or otherwise.
Friday, 4 August
12-1pm

Hybrid: Online via Zoom and in person at the
SCA Writer's Studio
(Level 6, Michie)

After the Future: Heat, Collapse, and Exhausting the "Future of Work"

Dr Luke Munn

Friday, 25 August
12-1pm

Hybrid: Online via Zoom and in person at the
SCA Writer's Studio
(Level 6, Michie)

Promoting children's environmental responsibility in the EFL classroom
Dr Valentina Adami

Friday, 1 September
12-1pm

Hybrid: Online via Zoom and in person at the
SCA Writer's Studio
(Level 6, Michie)

Write FOR your reader vs. writing WITH your reader: human-centred design in professional communication

Portraying Asian-diasporic identity beyond the limits of the literary label Asian-Australian

Catriona Arthy

and

Olivia De Zilva

Friday, 8 September
12-1pm

Hybrid: Online via Zoom and in person at the
SCA Writer's Studio
(Level 6, Michie)

Exploring Digital Humanities through the Lens of Journalism: A Case Study of Reader Comment Analysis

Dr Lujain Shafeeq

Friday, 15 September
12-1pm

Hybrid: Online via Zoom and in person at the
SCA Writer's Studio
(Level 6, Michie)

The Medicalised Body - On Illness, Humour, and Sexuality

Talkin' about the thing that stops me writing about the thing I'm talkin' about: Hacking and Hofstadter on the looping effect of diagnostic labels and writing the strange double

Carly-Jay Metcalfe and Bianca Millroy

Friday, 22 September
12-1pm

Hybrid: Online via Zoom and in person at the
SCA Writer's Studio
(Level 6, Michie)

Coping with eco-anxiety: A guided journal trial

Dr Ans Vercammen and Dr Skye Doherty

Friday, 13 October
12-1pm

Hybrid: Online via Zoom and in person at the
SCA Writer's Studio
(Level 6, Michie)

Prof. Jason Jacobs and Dr Matthew Cipa

Friday, 27 October
1:30-2:30pm

Hybrid: Online via Zoom and in person at the
SCA Writer's Studio
(Level 6, Michie)

'Digital storytelling' probably doesn't mean what you think it means
Dr Leah Henrickson