Research Seminar - The Post COVID-19 Museum: culture in a time of Coronavirus
25 September 2020

12:00pm

–

1:00pm
The Post COVID-19 Museum: culture in a time of Coronavirus
Presented by: Dr Caro Wilson-Barnao
Date: Friday 25 September 2020
Time: 12–1pm
Location: Online via Zoom
---
Abstract
Ross Parry uses the term Post Digital to evidence a critical moment in the adoption of the museum to new media. In this talk, I explore the increasingly normative construction of the museum as digital and consider the dramatic acceleration of this turn as a result of COVID-19.  I suggest that whilst there are a host of benefits to the naturalisation of the museum in the digital realm, especially during the pandemic, I suggest there is a need to question the assumption the museum that emerges Post COVID-19 will look the same.
---
Presenter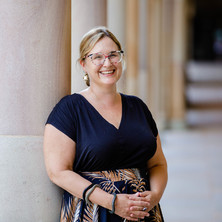 Dr Caroline Wilson-Barnao is a public relations lecturer in the School of Communication and Arts. She has many years' experience in PR and marketing, especially in the cultural and for non-profit sector. Her research explores the effects of media technologies, with particular attention to their impact on the platformising of cultural heritage, the body and its relationship to digital media devices and platforms, and the digitisation of public space in contemporary cities.
---
About Research Seminar and Workshop Series
---
School of Communication and Arts Research Seminar Series
The research seminar and workshop series occur each semester, each with a different topic and guest speaker from UQ or otherwise.
Friday, 4 August
12-1pm

Hybrid: Online via Zoom and in person at the
SCA Writer's Studio
(Level 6, Michie)

After the Future: Heat, Collapse, and Exhausting the "Future of Work"

Dr Luke Munn

Friday, 25 August
12-1pm

Hybrid: Online via Zoom and in person at the
SCA Writer's Studio
(Level 6, Michie)

Promoting children's environmental responsibility in the EFL classroom
Dr Valentina Adami

Friday, 1 September
12-1pm

Hybrid: Online via Zoom and in person at the
SCA Writer's Studio
(Level 6, Michie)

Write FOR your reader vs. writing WITH your reader: human-centred design in professional communication

Portraying Asian-diasporic identity beyond the limits of the literary label Asian-Australian

Catriona Arthy

and

Olivia De Zilva

Friday, 8 September
12-1pm

Hybrid: Online via Zoom and in person at the
SCA Writer's Studio
(Level 6, Michie)

Exploring Digital Humanities through the Lens of Journalism: A Case Study of Reader Comment Analysis

Dr Lujain Shafeeq

Friday, 15 September
12-1pm

Hybrid: Online via Zoom and in person at the
SCA Writer's Studio
(Level 6, Michie)

The Medicalised Body - On Illness, Humour, and Sexuality

Talkin' about the thing that stops me writing about the thing I'm talkin' about: Hacking and Hofstadter on the looping effect of diagnostic labels and writing the strange double

Carly-Jay Metcalfe and Bianca Millroy

Friday, 22 September
12-1pm

Hybrid: Online via Zoom and in person at the
SCA Writer's Studio
(Level 6, Michie)

Coping with eco-anxiety: A guided journal trial

Dr Ans Vercammen and Dr Skye Doherty