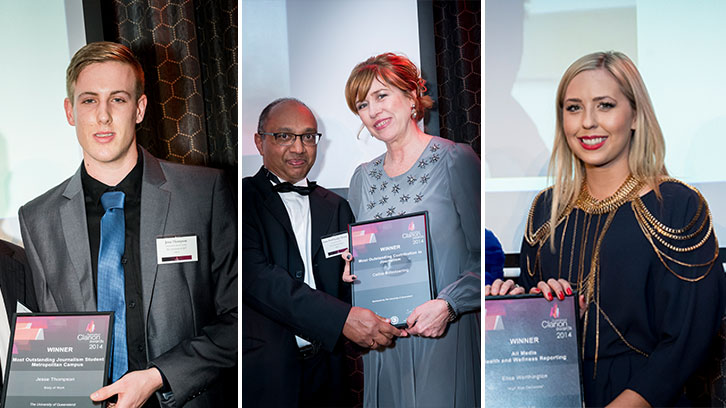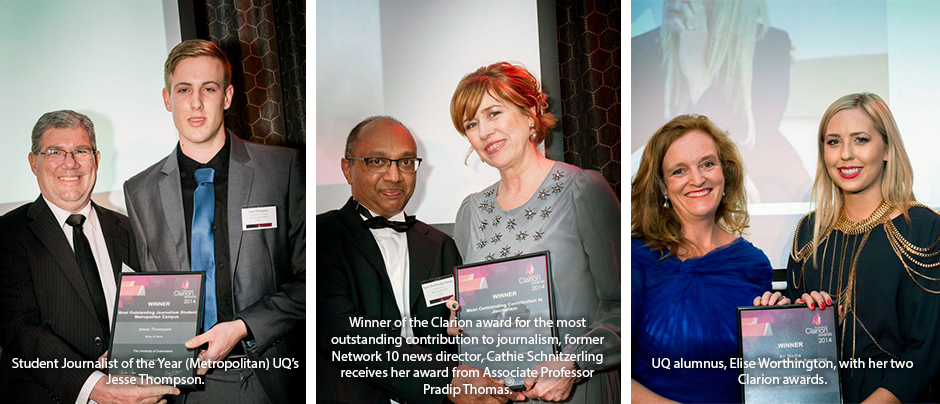 On Saturday 30 August, the Media, Entertainment & Arts Alliance (MEAA) announced the winners of the prestigious 2014 Clarion Awards – Queensland's major awards for journalistic excellence.
The ceremony took place at the Rydges Hotel South Bank and was attended by esteemed journalists and industry figures, including the School of Journalism and Communication's Head of School – Associate Professor Pradip Thomas and Undergraduate Program Director – Dr John Harrison.
Among the three finalists for the Most Outstanding Journalism Student award were UQ students Jesse Thompson and Pak Yiu. 
The Clarion was awarded to Jesse Thompson for his Radio Documentary.
UQ Alumnus Elise Worthington also won big at the awards, taking home the awards for: Current Affairs and Documentary - Television and also Health and Wellness Reporting - All Media, for her work on High Risk Decisions for ABC 7.30.
As a sponsor of the event, the award for Most Outstanding Contribution to Journalism was presented by Associate Professor Pradip Thomas on behalf of the School of Journalism and Communication. 
The full list of winners and finalists for this year's Clarion Awards can be found here.
Congratulations to Saturday's winners, particularly Jesse, Pak and Elise!