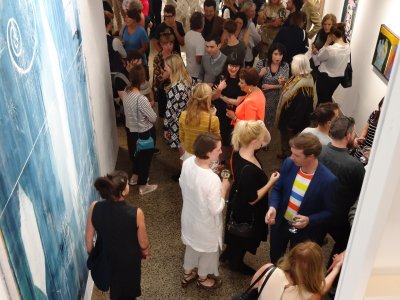 Nicholas Thompson, an Honours graduate in Art History from the University of Queensland, has opened his own commercial gallery in Melbourne.
Nicholas completed his Honours thesis on Australian Indigenous Art at UQ and has worked at some of the most esteemed galleries in Australia. Mr Thompson said his experience in galleries including Australian Galleries and John Buckley Gallery in Melbourne and Philip Bacon Galleries in Brisbane was where he honed his skills in the commercial sector of the art world. "I had always wanted to work in the visual arts", Mr Thompson said. "I began studying architecture at UQ but made the leap to art history in my fourth year.
The 32 year old is passionate about art and takes his role in helping artists build their careers very seriously. "I love the commercial arts sector as the organisations are typically small businesses and require a broad cross section of skills," he said.
Mr Thompson has been fortunate to experience every aspect of the gallery operation and says no two days are the same. "There are days when I will be typing, hanging, writing, driving, bookkeeping, selling, designing, web-coding and corresponding!", he said. Mr Thompson's new gallery in Melbourne opened for bookings in February and was officially launched on 21 March. "The gallery will open with a group of 15 contemporary leading Australian artists from Brisbane, Sydney and Melbourne", Mr Thompson said.
The exhibition includes reputable names such as Alun Leach-Jones and John Firth-Smith as well as a number of talented younger artists including Arryn Snowball and Craig Waddell.
The Nicholas Thompson Gallery is located at 155 Langridge Street, Collingwood. www.nicholasthompsongallery.com.au
Media: Nicholas Thompson Gallery, +61 3 9415 7882 or Belinda Brear, Faculty of Humanities and Social Sciences, b.brear@uq.edu.au, +61 7 3346 1634
(Originally posted: http://bit.ly/1OtO7vq)