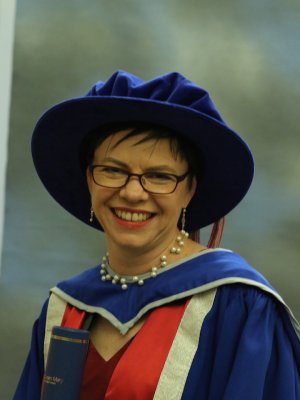 Professor Joanne Tompkins, the Associate Dean (Research) in the Faculty of Humanities and Social Sciences has received an Honorary Doctorate from the Queen Mary University of London.
Professor Tompkins, who travelled to London for the ceremony on July 14, said she was honoured to receive such an award.
"It is overwhelming to be recognized by one's peers in this way, particularly since the Drama Department at Queen Mary University of London ranked first in the country in the recent REF (Research Excellence Framework) exercise (2014) and in the Research Assessment Exercise (RAE) before that in 2008", she said.
Professor Tompkins has an international reputation for her research work which spans spatial theories and virtual reality; post-colonial, cross-cultural intercultural, and multicultural drama, literature, and theory; performance theories; and feminist performance.
She is the author of Theatre's Heterotopias: Performance and the Cultural Politics of Space and Unsettling Space: Contestations in Contemporary Australian Theatre. She co-authoredPost-Colonial Drama (with Helen Gilbert) and Women's Intercultural Performance (with Julie Holledge).
In her citation, Professor Tompkins's research was described as 'game changing for the discipline'.
She was a Visiting Fellow to Queen Mary University of London in 2008 and her support of colleagues and dedication to teaching were also praised. One of Professor Tompkins's students described her impact.
"She is an inspirational mentor whose leadership, intellectual insight, and generosity of spirit provides a model to which her graduate students aspire."
The Executive Dean of the Faculty of Humanities and Social Sciences at UQ, Professor Tim Dunne said he was delighted with the news.
"Here at UQ we are well aware of Joanne's immense qualities as a scholar and a research leader. The award of an Honorary Doctorate by a prominent University in London shows that her reputation resonates well beyond these shores," he said.
 In addition to her role as Associate Dean (Research) in the Faculty of Humanities and Social Sciences, Professor Tompkins is a member of the 'ERA Excellence for Research In Australia' assessment panel for the Humanities and Creative Arts.
The Australasian Association for Theatre, Drama, and Performance Studies have also announced a "Joanne Tompkins Prize for Journal Editorship" which will come into operation in 2017.
Article take from: http://www.hass.uq.edu.au/article/2015/07/uq-associate-dean-receives-honorary-doctorate-university-of-london