A CLARION CALL FOR QUALITY JOURNALISM
Kay McGrath, the weekend anchor of Seven News Queensland, has taken out the prestigious Clarion Award for Most Outstanding Contribution to Journalism in 2016 – sponsored by The University of Queensland and the School of Communication and Arts.
The award was presented at a gala event at the Brisbane Convention and  Exhibition Centre by UQ lecturer in journalism Bruce Woolley before an audience of 300 journalists and industry representatives.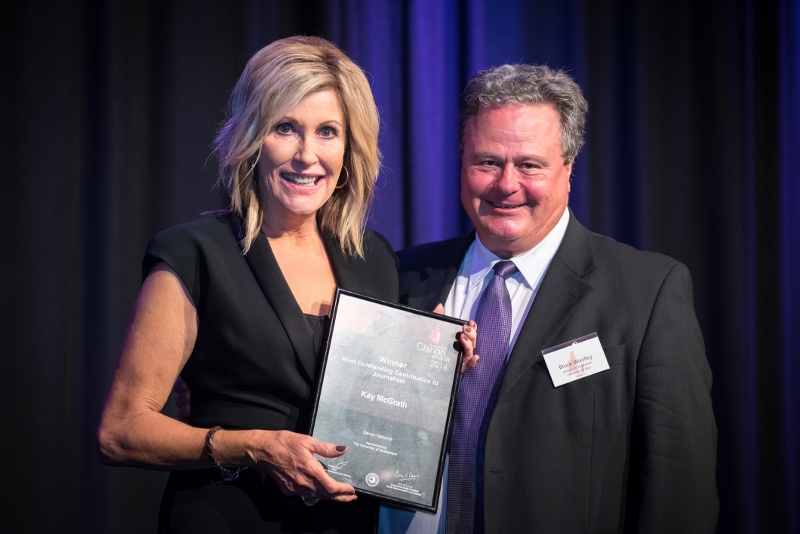 The Clarions are administered by the Media, Entertainment and Arts Alliance (MEAA) and reward excellence in journalism across a range of categories.
Ms McGrath was also recognised, along with her producer Paula Doneman, for her incisive and revealing interview with the corrupt former Queensland Police Commissioner Terry Lewis, entitled "Terry Lewis's Last Card".
UQ journalism graduate Rhian Deutrom was the recipient of the New Journalist of the Year Award. She works for News Corp and was presented with the trophy by another UQ graduate Jason Tin who has won the same award previously.
The prize for Best Television Current Affairs or Feature Documentary went to UQ Masters student Ben Hawke for a report he produced with the ABC's Mark Willacy about revisiting the devastation of Fukushima, called Into the Zone.
Here is the full list of winners for 2016.
All Media - Business Journalism              
Sponsored by Brisbane Airport Corporation
Sarah Elks, The Australian, Unmasking Terry Smith
All Media - Commentary, Analysis, Opinion & Critique
Sponsored by Three Plus Pty Ltd
Mark Ludlow, Fairfax Media/The Australian Financial Review, Lunch with The AFR & more
All Media - Health and Wellness            
Sponsored by Diabetes Queensland      
Janelle Miles, The Courier-Mail, News Ltd , Gift of Love
All Media - Broadcast Interview              
Sponsored by Queensland Police Union
Kay McGrath & Paula Doneman , 7 News, Terry Lewis's Last Card
All Media - Indigenous Issues Reporting             
Sponsored by Queensland Council of Unions
Brian Bennion, APN News and Media/The Queensland Times, Is Nothing Sacred? - Deebing Creek Mission
All Media - Most Outstanding Journalism Student
Sponsored by Media Super
Joseph  Ogilvie, Queensland University of Technology, Body of Work
All Media - Multicultural Queensland Award
Leisa Scott, News Corp, The Road Ahead
All Media - Rural Journalism     
Sponsored by Rural Press Club
Kirstin Murray, Australian Broadcasting Corporation, Baby Cash
All Media - Social Issues Reporting        
Sponsored by Network Ten
Heidi Davoren, Matthew Liddy, Lucy Fahey, Ben Spraggon & Colin Gourlay, Australian Broadcasting Corporation, These women are not just statistics
All Media - Sports Journalism
Nance Haxton, Australian Broadcasting Corporation, Why are boxers dying in Queensland?
All Media - New Journalist of the Year
Sponsored by QLD Parliamentary Media Gallery               
Rhian Deutrom, News Corp, Body of Work
All Media - Investigative Journalism                     
Sponsored by Watpac
Sarah Elks, The Australian, Unmasking Terry Smith
All Media – Freelance Journalism
Andrew McMillen, Various , Body of work
All Media - Multimedia Journalism        
Tim Leslie, Will   Ockenden, Simon Elvery, & Colin Gourlay, Australian Broadcasting Corporation, What your metadata reveals about you
All Media – Cartoon Illustration or Graphic
Tony Bela, The Courier-Mail, Game of Toads
Photography - News Photograph- Metropolitan              
Luke Marsden, The Courier-Mail/ The Sunday Mail, Kindergarten Cops
Photography - Photographic Essay
Liam Kidston, News Corp, Beirut Bungle
Photography - Sports Photography
Luke Marsden, The Courier-Mail, Capsize 
Print/Text - Feature Article
Sponsored by Local Government Association of Queensland      
Kate Kyriacou, The Courier-Mail/Sunday Mail, Ravenshoe - the untold story
Print/Text - News Report            
Sponsored by Chanel Nine Brisbane       
Kate Kyriacou, The Courier-Mail/Sunday Mail, Five hours to catch a killer
Print /Text - Best Three Headings
Sponsored by Seven Network Brisbane               
Baz McAlister, News Corp, Threat Level: Hilux   
Radio - Current Affairs, Feature Documentary or Special             
Elly Bradfield, Australian Broadcasting Corporation, St George's ice struggle
Radio - News Report     
Isobel Roe, Australian Broadcasting Corporation, Oakey contamination scare
Regional & Community – Print/ Text: News Report
Sponsored by Ipswich City Council
Grace Mason (nee Uhr) ,The Cairns Post, Member Exposed
Regional & Community - Broadcast Report
Elly Bradfield, ABC Southern Queensland, St George's ice struggle
Regional & Community - Print /Text: Feature Article or Opinion:
Sponsored by Council on the Ageing (COTA)
Vani Naidoo, APN Australian Regional Media, Pucker up for progress, Giving the homeless hope,& Laying cancer bare
Regional & Community - News Photograph
Glenn Hampson, Gold Coast, Bulletin Pot of Gold
Television - Current Affairs, Feature Documentary
Sponsored by Queensland Police Union               
Mark Willacy & Ben Hawke, Australian Broadcasting Corporation, Into the Zone
Television - The John Bean Award for News and Current Affairs Camerawork
Sponsored by Australian Broadcasting Corporation
Luke Dorrington, Seven Network, North Queensland Drought
Television News Report
Sponsored by QUT Creative Industries
Darren Curtis, Nine Network, Jakarta Bombing
Most Outstanding Contribution to Journalism  
Sponsored by The University of Queensland
Winner
Kay McGrath, Seven Network
2016 Queensland Journalist of the year           
Sponsored by Griffith University
Winner
Sarah Elks, The Australian