Research Seminar - AustLit and BlackWords—Platforms for Storying Research
13 September 2019

3:00pm

–

4:00pm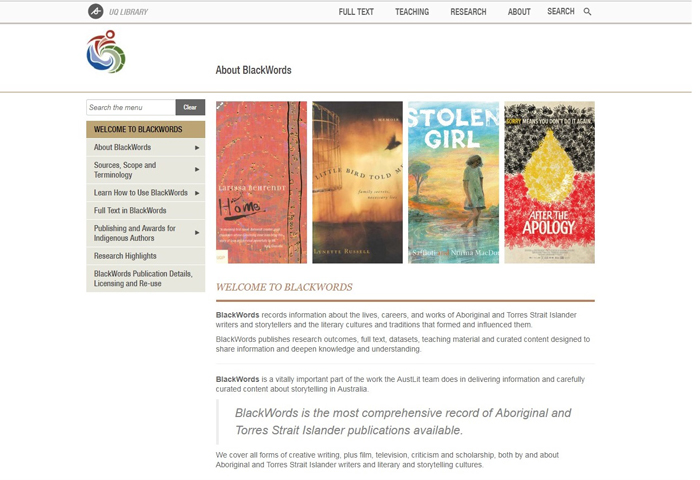 CANCELLED
AustLit and BlackWords—Platforms for Storying Research
Presented by Kerry Kilner and the AustLit team
Date: Friday 13 September, 2019
Time: 3:00pm-4:00pm
Location: Digital Learning Space (Room 224, Level 2), Joyce Ackroyd Building (#37) 
Abstract:
This seminar will focus on AustLit's evolving status as a platform for research, teaching, and engagement. It will discuss the ways our interactions with communities of interest inside and beyond the university sector has allowed us to develop methods of storying research and sharing ownership. AustLit has also claimed an important role in publishing – both older literary works and contemporary publications of creative and critical writing. Meanwhile its engagement with student- or academic-led publishing initiatives has led it in a new direction within the publishing industry. This paper will bring colleagues up to date with recent projects, publications, and strategies, discussing where AustLit is aiming to go over the next few years.
---
About Research Seminar and Workshop Series
---
School of Communication and Arts Research Seminar Series
The research seminar and workshop series occur each semester, each with a different topic and guest speaker from UQ or otherwise.
Friday, 4 August
12-1pm

Hybrid: Online via Zoom and in person at the
SCA Writer's Studio
(Level 6, Michie)

After the Future: Heat, Collapse, and Exhausting the "Future of Work"

Dr Luke Munn

Friday, 25 August
12-1pm

Hybrid: Online via Zoom and in person at the
SCA Writer's Studio
(Level 6, Michie)

Promoting children's environmental responsibility in the EFL classroom
Dr Valentina Adami

Friday, 1 September
12-1pm

Hybrid: Online via Zoom and in person at the
SCA Writer's Studio
(Level 6, Michie)

Write FOR your reader vs. writing WITH your reader: human-centred design in professional communication

Portraying Asian-diasporic identity beyond the limits of the literary label Asian-Australian

Catriona Arthy

and

Olivia De Zilva

Friday, 8 September
12-1pm

Hybrid: Online via Zoom and in person at the
SCA Writer's Studio
(Level 6, Michie)

Exploring Digital Humanities through the Lens of Journalism: A Case Study of Reader Comment Analysis

Dr Lujain Shafeeq

Friday, 15 September
12-1pm

Hybrid: Online via Zoom and in person at the
SCA Writer's Studio
(Level 6, Michie)

The Medicalised Body - On Illness, Humour, and Sexuality

Talkin' about the thing that stops me writing about the thing I'm talkin' about: Hacking and Hofstadter on the looping effect of diagnostic labels and writing the strange double

Carly-Jay Metcalfe and Bianca Millroy

Friday, 22 September
12-1pm

Hybrid: Online via Zoom and in person at the
SCA Writer's Studio
(Level 6, Michie)

Coping with eco-anxiety: A guided journal trial

Dr Ans Vercammen and Dr Skye Doherty
Venue
Digital Learning Space (Room 224, Level 2), Joyce Ackroyd Building (#37)